04 November 2011
Somali who had no right to be in UK scarred woman for life in terrifying sexual attack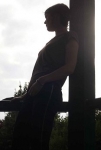 A Somali man who dragged a 23-year-old woman into an alleyway and scarred her for life during a terrifying sexual attack was jailed for nine years today



Said Adam, 37, who has no right to be in the UK, will be deported when he has completed half his sentence, said judge Jamie Tabor.
The judge told Adam he was sure that he was desperate to have sex that night regardless of whether a woman consented or not.
During a four day trial at Gloucester Crown Court the jury of six men and six women heard that the victim was approached and pestered by Adam shortly before 4am on May 12 after she had left the Registry night club.
He pushed her into an alleyway where he picked up a broken soft drink can and pressed it into her face, scarring her cheek for life.
Then he ripped the crotch of her leggings and tore her pants as he penetrated her with his fingers.
Adam then walked away, leaving the woman bleeding and in a state of shock and distress in the alley, the jury heard.
In evidence Adam accepted he had met up with the woman and claimed she was friendly and invited him back
He denied going into the alley or molesting the woman in any way.
But after a three hour retirement the jury convicted him of sexual assault by penetration and assault causing actual bodily harm.
Court: Said Adam was sentenced to nine years in jail at Gloucester Crown Court
Judge Tabor told him 'You have effectively ruined a young woman's life by attacking her.
'I am quite satisfied, having seen the CCTV of what went on, that if you had not attacked her you would have attacked someone else.
'You were desperate that night to have sex with someone whether she consented or not.
'She patently did not consent. You attacked her and scarred her for life. It was deliberate, cold blooded - although I suspect you were also fuelled and excited by alcohol.'
The judge congratulated the victim for bravely giving evidence of the humiliating ordeal without letting her emotions get out of control.

He said the way she handled herself in court in such difficult circumstances had been impressive.
A woman whom Adam had approached and grabbed earlier in the night had been lucky to escape the same fate, he added.
Adam's solicitor Paul Trotman said his client had been living off benefits in Gloucester for about a year.

He had previously lived in Bristol and had been in the UK for nine years.
Mr Trotman confirmed Adam had no right to be in this country
Prosecutor Kannan Siva said the victim had been left 'devastated' by her ordeal.
'The physical marks still live with her today,' he said. 'On a day to day basis she has a visible reminder of that appalling incident six months ago.
'She has retreated into herself. It has affected her confidence as well as her sleep and she requires medication.'
http://www.dailymail.co.uk


Read more: http://www.dailymail.co.uk/news/article-2057184/Somali-ma...