20 October 2011
Muslim slit throat of Christian woman on resistance to rape on workplace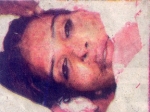 (PCP) A Muslim worker in a garment factory in Korangi Industrial Area of Karachi East slaughtered a Christian woman on her resistance to rape when she was cleaning bathrooms.
A Christian woman named Zubaida Bibi, aged 35 and mother of four was employed as sanitary worker in Crescent Enterprises, a garment factory in Korangi Industrial Area.

On October 12, 2011, during duty hours, Zubaida Bibi entered to clean factory bathrooms when one Muslim employee named Mohammad Asif followed her and locked door behind him.

When Mohammad Asif attempted to sexually assault Zubaida Bibi, she cried for help on which Mohammad Asif took out a dagger and slit the throat of Zubaida Bibi.

The factory management called police help and Mohammad Asif was arrested on crime scene where throat cut dead body of Zubaida Bibi was lying on floor.

The SHO Ejaz Rajpar of Korangi Indutrial Area Police Station said that killer was arrested on in time information to police and FIR against Mohammad Asif have been registered under Section 302 vide FIR number 963/2011.

Zubaida Bibi was living in Christian Colony in Korangi, Karachi East with her husband Younas Masih and Children Arifa Bibi, Uroosa Bibi, Shahzaib Masih and Aurengzaib Masih.

Police also maintained in FIR that there was enmity between Zubadia Bibi and Mohammad Asif which resulted in her killing but Younas Masih, husband of Zubaida Bibi denied any such cause of enmity.

MASS President Mr. Liaquat Munawar Masih, Vice President Naeem Masih and MASS active worker Robin Sharif visited the family for condolence. Husband of Zubaida bibi Mr. Younas Masih discussed with the delegation of MASS and Younas siad, "I want justice: Because we are poor peoples and we don't have any resources. My wife was innocent and noble lady. She was working for our children"

There are rising incidents of sexual harassment against Christian women workers on workplaces in Pakistan which go unreported due to cultural and social values.

The influential Muslims feel free to kidnap and rape Christian women in Pakistan where Islamic laws protect culprits. In kidnap and rape cases against Christian women, the Muslim culprits walk free from courts which keep victims silent on such abuses.
http://www.pakistanchristianpost.com