20 October 2011
5 Foreign Nationals In Custody After Attempted Break-In at Texas Courthouse, Authorities Say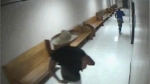 The FBI and local police said Wednesday they were trying to figure out why five French-Moroccan nationals tried to break into a Texas courthouse in the middle of the night.



At least five foreign nationals are in custody after the attempted break-in at the Bexar County Courthouse in San Antonio, which triggered a bomb scare and FBI terror investigation, a source close to the case tells FoxNews.com.
The source, who spoke on condition of anonymity because the investigation is ongoing, said the suspects are believed to be of French-Moroccan descent.
FBI agents and a bomb squad were called to the courthouse after three men were found inside the building early Wednesday.
The men, along with two others who were outside in a rented RV, were arrested by San Antonio police. The five suspects are currently being questioned by the FBI Joint Terrorism Task Force.
"We're looking into all aspects of these individuals," FBI spokesman Erik Vasys told FoxNews.com.
Documents found inside the van showed the men, all in their 20s, had traveled extensively to high-level security facilities around the country, according to local media reports. Investigators also told the Associated Press that 90-day visas, maps, cell phones and computers were found inside the vehicle.
The source declined to comment on whether any bomb-making materials were found at the scene, saying only that the suspects' motive is still under investigation.
Police said two of the men climbed a fire escape and entered an unlocked door on the fourth floor of the courthouse at around 2 a.m., KHOU.com reports.
The men allegedly told investigators that they were visiting from out of town and said they were trying to get a tour of the city, according to the station.
Sheriff's department spokesman Louis Antu told the Associated Press that there's no information to indicate that the incident might be affiliated with terrorism. He said the case is being investigated as burglary of a building.
Bexar County Judge Nelson Wolff said surveillance video from inside the courthouse showed the men wearing sombreros and waving around a gavel. He said they appear to "just be some guys on a prank."
Bexar County Sheriff Amadeo Ortiz said the men speak little English but are cooperating with a translator's help.
The men, whose names have not yet been released, were taken to a jail holding facility.
FoxNews.com's Cristina Corbin and the Associated Press contributed to this report.
Click for more on this story from FoxSanAntonio.com


Read more: http://www.foxnews.com/us/2011/10/19/terror-alert-bomb-sc...