16 October 2011
Ken Bigley beheading video 'found' in defendant's home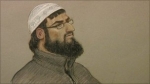 A Birmingham bookseller accused of "priming people for terrorism" had video footage of British hostage Ken Bigley being beheaded, a jury was told.
Ahmed Faraz has been charged with 30 counts of possessing and distributing extremist material intended to radicalise Muslims around the world.
Footage of 81 beheadings were found in premises linked to the Sparkhill resident, the prosecution said.
The 32-year-old Islamic studies graduate denies the charges.
Mr Faraz ran Maktabah bookshop and publishers in Birmingham, which produced works that ended up in the hands of terrorists including Mohammed Sidique Khan, the leader of the July 7 bomb plot, Kingston Crown Court heard.
Murders by beheading
Prosecutor Max Hill QC said the DVDs and media files depicted "the murders by beheading of a number of individuals, including the British citizen Ken Bigley, who some will remember".
The 12 jurors were then shown an excerpt of the film, which was found by police on a disc at Poplar Road in Sparkhill, Birmingham, where Mr Faraz, now of Esme Road, was living in 2007.
Mr Bigley, 62, from Liverpool, was taken hostage in Baghdad in September 2004 and beheaded more than three weeks later.
Books, films and media files were found when premises linked to Mr Faraz, all in the Sparkhill area, were searched in 2007 and 2010.
The University of Birmingham graduate is not connected to any specific terrorist plot, Mr Hill said.
He is alleged to have carried out the offences between 2006 and 2010.
The trial continues
http://www.bbc.co.uk/news/uk-england-15316326