16 October 2011
Imam found guilty of abusing young girls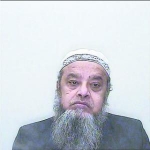 A 'DESPICABLE' paedophile who abused three girls when he was an Imam at a town centre mosque has been convicted by a jury
Ebrahim Yusuf Kazi, 67, was found guilty of five counts of indecent assault on three girls aged under the age of 13.
The offences took place between 1979 and 1986 at Broad Street Mosque, where Kazi was an Imam before moving to Gloucester.
The victims have been praised by the police for their bravery in coming forward and one victim told the Adver she will come face-to-face with him at court next month to see him sentenced.
Kazi's crimes were only revealed after one young victim contacted Wiltshire Police.
PC Dawn Simmonds, the investigating officer, said that Kazi had abused his position to commit his crimes.
She said: "Ebrahim Yusuf Kazi was found guilty of five counts of indecent assault on three girls aged under the age of 13.
"The offences took place in the 1980s when Kazi was the Imam at the Broad Street Mosque in Swindon. As an Imam, Kazi was in a position of responsibility and trust, a position which he abused for his own gratification.
"Not only did he subject these children to these despicable acts but he has shown no remorse for his actions, having now also put them through the ordeal of a trial.
"I would like to take this opportunity to thank the victims who have shown great courage in coming forward. Without their continued assistance, this trial would not have been possible.
"We encourage anyone, child or adult, who has been the victim of a sexual assault to tell someone.
"If you don't want to report it to police, you can tell a trusted adult who can report it on your behalf, not only so that the offender can be identified but to ensure that you are provided with the appropriate help and support.
"Sexual abuse has an enormous impact on victims and their families. We hope that the outcome of the trial will offer these three women some piece of mind."
Kazi is set to be sentenced at Swindon Crown Court on November 2.
s/9307850.Imam_found_guilty_of_abusing_young_girls/