13 October 2011
Wallsend sex attacker wins cut in prison term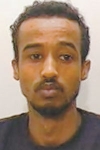 AN asylum seeker whose late-night sex attack left his victim "a prisoner in her own home" has had his jail term slashed.


Somali-born Ciise Muqtar Mohammed came to Tyneside seeking sanctuary but was locked up after targeting the girl in Wallsend, North Tyneside.
Mohammed pounced on his victim, told her he had a gun and knife, bit her on the face and head and removed the 19-year-old's top and bra.
The 24-year-old was jailed for six years at Newcastle Crown Court in May, after admitting sexual assault and assault occasioning actual bodily harm. But now Mohammed, of Tumulus Avenue, Walker, Newcastle, has won an appeal to have his sentence cut by one third.
At London's Court of Appeal, his lawyers claimed the sentence was too long considering he had not actually raped the girl.
The girl had been walking home in Wallsend in January when Mohammed, who had entered the UK illegally and was awaiting the outcome of an asylum application, starting talking to her.
He told her he had a gun, then said he had a knife and poked her in the back with his finger so she believed it was a blade, the court heard.
The girl repeatedly tried to escape as Mohammed bit her, removed items of her clothing and tried to lick her, the hearing was told.
Only when a resident came out to confront Mohammed could the girl escape and run home. She needed hospital treatment for the bites and scratches sustained in the attack.
Mohammed had snatched his victim's driving licence before she broke free, and this was later found at his home, where he was arrested.
In a victim impact statement, the girl said she "thought she was going to be raped", and was now afraid to go out, could not sleep and was "a prisoner in her own home".
But Andrew Walker, for Mohammed, said the Newcastle judge had imposed a prison term more akin to that handed down for rape.
Mr Justice Holroyde, sitting with Lord Justice Hooper and Mr Justice Supperstone, ruled that the six-year sentence was "manifestly excessive" and cut it to four years.
He said: "It must be remembered that this was an offence of sexual assault, not one which involved actual or attempted penetration.
"It must also be remembered that the maximum sentence is 10 years and the appellant has no previous convictions for sexual or violent offences."
The new sentence means Mohammed will be eligible for automatic release after serving two years in jail.
Sentencing Mohammed at the original hearing in May, Judge Brian Forster said: "The attack has had a considerable and devastating effect on this young woman.
"You are an asylum seeker in this country.
"This court has a duty to make it known to all that any young person can go out and walk about without the fear of being attacked."


Read More http://www.chroniclelive.co.uk/north-east-news/evening-ch...