13 October 2011
Aid workers taken hostage at the heart of the world's biggest refugee camp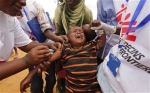 Two female Spanish aid workers have been kidnapped from the heart of the world's largest refugee camp, threatening relief efforts and raising fears that international staff treating Somali famine victims were now prime targets.
Gunmen believed to be from Somalia snatched the pair, who worked for Medecins Sans Frontieres, as they left a health centre in part of the camp flooded with new arrivals fleeing the dire situation in the war-torn country.
A cell from al-Shabaab, Somalia's Islamist jihadists, were immediately suspected of carrying out the attack, the first kidnap of Westerners from inside the camp's confines.
Kenyanpolice launched a land and air search for the two women. Their Kenyan driver was shot and wounded in the midday raid.
By last night, however, they had not been found and it was feared they had already been taken across the border into Somalia, which lies less than 60 miles east of the refugee camp.
The attack could jeopardise aid work in the camp, now home to half-a-million Somalis fleeing famine and war. Last night, all non-essential aid missions to Dadaab were cancelled.
"We are extremely concerned about this, and discussions on the next steps are ongoing at the moment," said Emmanuel Nyabera, spokesman for the UN refugee agency, UNHCR, which co-manages Dadaab.
"That may mean pulling some staff out, which is of course a last resort, considering the need of the vulnerable people there at the moment."
Foreign staff are already subject to security restrictions at Dadaab, including sunset to sunrise curfews and orders to vary their routine visits to clinics, feeding centres and meetings.
Veteran humanitarian workers in Nairobi had been warning for some time that the camp was becoming increasingly militarised, with reports of arms being sold and young men being recruited into anti-Western militia, including al-Shabaab.
Unlike most other charities, however, Medecins Sans Frontieres moves without armed guards in almost every area of the world in which it operates.
"For all of our people in charge of security, kidnap has been the top risk in Dadaab, and the surrounding region, for a long time," said one senior aid staffer in Nairobi.
"It's not a surprise that it happened. But that this took place in the heart of the camp, that was a surprise."
Until yesterday, Dadaab was seen as the safest place to treat the 1,000 Somalis a day still streaming over the border, fleeing a famine which was exacerbated in the first place by al-Shabaab's refusal to let Western aid into its territory.
It is understood the two women were taken hostage as they left a health centre in the so-called Ifo Extension, a new camp opened specifically for victims of the current famine in Somalia.
"We strongly condemn this attack", said José Antonio Bastos, the president of MSF in Spain.
"We are in contact with all the relevant authorities and are doing all we can to ensure the swift and safe return of our colleagues. Meanwhile, our thoughts are with them and with their families in this difficult time."
That the gunmen attacked in the middle of the day and in the centre of one of the largest aid organisations' operations shocked many working in Dadaab, and in Nairobi, Kenya's capital and headquarters of aid efforts for the Horn of Africa.
"We thought it was just a rumour at first, there's always some report that someone's been attacked, or there's a sudden increase in the kidnap threat," said one British staffer with an international charity in Dadaab.
"But then it was confirmed and everyone's just all over the place. I've had my Mum on the phone already bawling me out because I had told her this place was safe. It is supposed to be, we know there's a risk, but we take all the precautions. All that's being re-evaluated now as we speak."
The kidnapping comes less than a fortnight after Marie Dedieu, a 66-year-old disabled French woman, was taken hostage from her holiday home on Kenya's north coast.
There have been no reports of her whereabouts since.
Three weeks before she was seized, Somali gunmen shot dead David Tebbutt, a British publishing executive, and kidnapped his wife, Judith, on the first night of their holiday in another Kenyan resort.
Al-Shabaab has been blamed for both of those kidnaps, and was again suspected of yesterday's attack.
"It would be a pretty significant change in their M.O. to be kidnapping people, rather than going in with a bomb or with a lot of shooting," said Roger Middleton, senior Horn of Africa analyst with Chatham House, a London-based think tank.
"I suspect this was more likely pure banditry. But Shabaab have long been aiming at removing from their territory, or territory close to theirs, anyone who ideologically opposes them. In which case, this would fit."
http://www.telegraph.co.uk/