05 October 2011
Spreading the word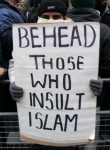 A council is spending ratepayers' money to make Muslims feel more at home, by funding workers to spread the word of Islam.
Media Statement from Darebin Mayor Cr Diana Asmar
'Darebin Muslims Reaching Out' – Project Officer position
The purpose of Darebin's 12 month Federal Government funded 'Darebin Muslims
Reaching Out' project officer position is to build links between Islamic community
groups and the wider Darebin community.
This project is one example of how Darebin works towards removing barriers to
community participation for its many diverse communities, which it does through a
broad range of programs.
Over the 12 month period, the officer will be employed to develop and implement
activities that help to dispel myths and misconceptions about Islam and Muslims.
The officer will work with the Islamic Society of Victoria and the local community to help develop a range of activities and manage relationships; organise activities that engage the Muslim community in broader community events and vice versa, such as festivals and celebrations across Darebin, with a focus on young people.
http://au.news.yahoo.com