21 September 2011
Authorities Refused Treatment to Christian Who Died in Pakistan Prison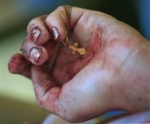 A Christian man accused of blasphemy in Pakistan died of tropical fever in prison on Sept. 9, after the prison authorities refused him treatment, The Christian Post has learned Tuesday
Aslam Masih died reportedly of the dengue virus, an infectious tropical disease.
Jonathan Racho, the Regional Manager for South Asia at the International Christian Concern (ICC), an advocacy group, told The Christian Post that a local human rights organization had appealed to the prison authorities to provide Masih with proper medical treatment, but the authorities refused, quoting security reasons.
"We've received the information last week, but we needed to confirm it with our local contact," Racho told The Christian Post.
"If somebody's in jail," he commented on the incident. "The prison authorities have an obligation to provide that person with medical treatment. Otherwise it's a violation of human rights. This was a preventable death."
The blasphemy law is one of the most controversial laws in Pakistan, according to Racho. It says that whoever offends Prophet Muhammad will face capital punishment.
Like us on Facebook
For offending the Quran, the punishment is a lifetime prison sentence.
Masih was reportedly arrested in 2010 after having been accused of blasphemy by two members of the Tablighi Jammat, an Islamic group.
"Once again, Pakistan has shown its contempt for the lives of its religious minorities," Racho wrote in a press release. "We urge the international community to pressure Pakistan protect the rights of Christians and other vulnerable groups in the country."
Racho told The Christian Post that people are held accountable to the blasphemy law regardless of their religion, including Muslims, but that it is most often used to persecute religious minorities.
The incident added to a row of deaths and arrests related to the persecution of Christians in Pakistan in the past years.
In March, a Pakistani Christian man sentenced to a lifetime in prison for blasphemy was found dead in prison. The authorities said he had died of natural causes.
The man, Qamar David, had been accused of blasphemy by his business partner.
One of the most famous cases of the persecution of Christians in Pakistan is the case of Asia Bibi, the first woman in that country to be sentenced to death for alleged blasphemy.
Bibi, still awaiting the solution of her case, had been accused of blasphemy by fellow field workers. A mother of five, she was sentenced to death by hanging for allegedly speaking ill of Prophet Muhammad. She denied the charges.
Ninety-five percent of Pakistan's population is Muslim, with 75 percent Sunni and 20 percent Shia. Only five percent practice Christianity and Hinduism, according to the CIA fact book.