04 September 2011
Since 9/11: A light on Islam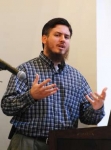 If there are any silver linings to the tragedy of 9-11, First Coast Muslims say one of them may be that Northeast Florida's Islamic community has grown in its outward focus and accessibility, area religious leaders say.



Ministers and lay people, both inside and outside the faith, describe a transformation of what was before the attacks a largely reclusive community into one that is better educated about its own beliefs and practices, more nimble and savvy in engaging the wider culture and more involved in civic and inter-faith issues.
Thanks also in part to the coming of age of second- and third-generation children of immigrants, the region's Muslims have become more proactive and consistent in the past decade of projecting positive messages in response to, or ahead of, negative stereotypes of the faith.
"I think it's more positive than anything else," Imam Lateef Majeed, an American-born Muslim who converted to Islam 35 years ago. He's now part of the Islamic Center of Orange Park, which meets Fridays in a Presbyterian church. "I saw more Muslims become interested in explaining what Islam was all about and that they were not part of any terrorist or subversive groups."
Non-Muslims actively involved in city's interfaith community also have seen the change, said the Rev. Fred Woolsey, a retired Disciples of Christ pastor and long-time participant in the Interfaith Council of Jacksonville.
Before 9-11, he said, it was usually just the imam and a handful of members from the Islamic Center of Northeast Florida, the area's largest mosque, who were involved in the council's meetings and events. After the attacks, that involvement shot up and they've begun to forge working relationships with other faith groups in town, he said.
"The (Muslim) community is maturing and beginning to feel more comfortable in the (wider) community," Woolsey said.
Before: Inwardly focused
For the region's foreign-born - and particularly its Arab - Muslims, that was a difficult change to make, even with 9-11 as a motivator, said Mohammad Ilyas, a physician and Pakistani-born American living in Jacksonville.
As the Jacksonville congregation began to grow from the late 1970s onward, the primary focus of its membership was inward, as immigrants were largely concerned with maintaining the cultural aspects of their religion and trying to ensure their children grew up Muslim and with an appreciation of their or their parents' native countries, Ilyas said.
In that sense, it mirrored the experience of other immigrant groups in America. But the 2001 terrorist attacks threw Muslims here and across the nation into a crisis exacerbated by their historic seclusion.
Because of it, they unprepared to respond with the proper messages of grief and condemnation of the attacks that many non-Muslims demanded - and used to condemn all Muslims.
"Many felt compelled to speak up, but they did not have the outlets to reach out," Ilyas said. "Their message was very weak and ... they were not prepared to do the job well."
Shifting identity, message
And honestly, Ilyas added, many of those immigrants until 9-11 continued to self identify with their native countries instead of the United States.
That was partly a function of their original intention of getting an education or working a few years in America before returning home to work or retire.
In his own case, regular trips to Pakistan reinforced that notion until the attacks made it increasingly difficult to get home. Getting home less often has helped Ilyas adjust his mind to citizenship.
"I have taken my oath, my children have grown up here and they have attended schools here," he said. The shift in attitude "did not happen overnight."
The Islamic Center, whose members are largely made up of immigrants, also put an American face and voice into its pulpit last year by hiring a 34-year-old Jacksonville native as its imam.
The spiritual leader wears Western clothes and goes by his given name - Joe Bradford. And the way he speaks is a perfect fit in the Bible Belt.
"Nice to meet you," he said to a group of non-Muslims who attended the mosque's recent Sharing Ramadan event. "Thank y'all for coming out."
Mosque members have said Bradford was hired in part because he can interface well with non-Muslims, and in part because the Sept. 11 attacks made it practically impossible to import imams from the Middle East.
The terror attacks made such a hire a necessity and will likely set a trend nationally, said Parvez Ahmed, a University of North Florida professor and former chairman of the Council on American-Islamic Relations.
"In the next 10-20 years, we will see more Joe Bradford types" in U.S. mosques, Ahmed said.
Youth stepping up
And they're likely to come from the ranks of children born to immigrants.
Ahmed said a new generation of Muslims raised in America are already transforming Islam in Northeast Florida. Being raised in a post-9-11 atmosphere they are well educated about their faith and culturally they fit in with their non-Muslim peers.
"We went to American schools so it's easier for us to relate," said Mueez Qureshi, 22, of Jacksonville. "There's no language barrier for us" when speaking to non-Muslims, whereas "my parents might be intimidated."
Qureshi helped establish Project Downtown Jax, a charity that feeds the homeless.
Participant Yousra Hebeishy said the charity is a way of living out the Muslim faith and demonstrating that Islam is not about violence. Her participation mirrors her overall determination since 9-11 to portray true Islam to counter "what was being perpetrated by the media."
Muslim youth are aware of the responsibility and role they have increasing the acceptance of their faith community.
"I think we all stepped up and did a good job of doing outreach and portraying the right image of Islam," she said.
More outreach, interfaith
Adults got into action, too.
Bradford said today's Northeast Florida Muslim is much more equipped to answer questions about their faith - from why some Muslims are terrorists to why they fast during Ramadan - than ever before, thanks in large part to 9-11.
One of them is James Abdur-Rahman, 58, a convert to the faith who volunteered to help visitors at the Islamic Center's Sharing Ramadan event.
9-11 brought American-born and immigrant Muslims closer together as they had to start countering the negative messages about Islam in popular culture. For him, that meant increasing his studies of his own religion.
"I had to understand more details of the religion so I could explain" it to non-Muslims, he said.
The results are paying off, said Imam Enrique Rasheed, spiritual leader of the Jacksonville Masjid of Al-Islam.
Muslims are more involved in interfaith efforts across the city and state, nowadays because they are being invited more than they are having to volunteer, Rasheed said.
Rasheed participated in the planning of Gov. Rick Scott's inaugural prayer breakfast and prayed at Mayor Alvin Brown's inaugural prayer breakfast.
"People are starting to realize that Muslims are here and if you want to be fair, then it's not just Christians and Jews," he said. "Muslims are on the scene."
jeff.brumley@jacksonville.com | (904) 359-4310


Read more at Jacksonville.com: http://jacksonville.com/news/2011-09-04/story/911-light-i...