04 September 2011
Professor in 'jail' after four con weddings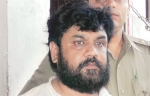 Some get hooked to making money, others to sex and drugs, but Mohammad Kamil had a unique problem - he was obsessed with getting married. To achieve this, he even converted to Islam.
Kamil was born a Hindu and was called Manoj Krishna.
But at the end it was four weddings and then jail for the 40-year-old, who was the director and professor at a private college in Fatehpur district of Uttar Pradesh.
A BTech and an MBA, he first married a girl in Mumbai in 1994. He was doing his MBA from a private college in Mumbai when he married Geeta, who gave birth to a son.
Soon after his son's birth, Kamil left Geeta and hooked up with Pooja, whom he married in Mumbai in 1998.
Pooja gave birth to a boy the next year and once again Kamil dumped her.
He moved to Uttar Pradesh and took up a job at a private college.
To further his wedding plans, he converted to Islam in 2002 and married a Muslim girl in Kanpur.
"The woman gave birth to two children and Kamil left them soon after. He then moved to Lucknow and married another Muslim girl in 2008," inspector A. K. Dwivedi of Thakurganj police station, said.
Kamil's fourth wife also gave birth to a boy but he dumped them as well and was planning his fifth marriage when he was nabbed by the Lucknow police.
Kamil was planning to marry a teacher who was posted in a degree college in Thakurganj locality. One Karunakar Chaudhary, a native of Kanpur, came to know about Kamil's background and approached the police with his details.
In the FIR lodged at Kanpur's Kalyanpur police station, it was reported that Kamil had allegedly fired at Chaudhary in a bid to kill him so that he could marry for the fifth time, Dwivedi said.
The police said Kamil also used to threaten his ex-wives
http://indiatoday.intoday.in/story/professor-in-jail-after-four-con-weddings/1/150047.html