31 August 2011
Eight confirmed dead in Chechnya suicide attacks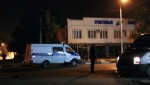 At least eight people have been killed and 22 injured in two suicide attacks in the Chechen capital Grozny, local officials said on Wednesday.
The attacks took place during celebrations to mark the end of the Muslim fasting month of Ramadan on Tuesday.
It was earlier reported that seven had been killed and 18 injured in the twin blasts.
Chechnya's strongman leader Ramzan Kadyrov said five policemen, an emergency official and a civilian were killed.
A sixth policeman died in the hospital overnight, the restive region's Health Minister Musa Akhmadov said, adding that five of the 22 injured are in critical condition.
A man blew himself up when a police patrol tried to detain him near a local parliament building, and a second blast came just 30 minutes later. There were also reports of a third blast.
Kadyrov said the attackers had "shown their real faces" by choosing "the most sacred day for all Muslims."
Islamist violence has recently increased in the troubled Muslim North Caucasus region.
Russian forces have fought two wars in Chechnya since the fall of the USSR, and while Moscow has declared victory over a Muslim-led insurgency there, violence has spilled over into neighboring Ingushetia and Dagestan
http://en.rian.ru