31 August 2011
ASYLUM seekers are allegedly rioting at the Darwin detention centre after two fires broke out on a Muslim holy day.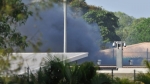 A source inside the centre said no detainees were allowed to attend Darwin Mosque today to take part in the festivities.
Immigration spokesman Sandi Logan said fire-fighters managed to extinguish an initial fire but a second blaze broke out.

This secondary blaze appears to have caused the most damage. Two water cannons were used to extinguish the large fire which burned for the about an hour.

Mr Logan said they did not know what property had been damaged.

Security guards are patrolling a perimeter inside the detention centre grounds.

Police have been stationed at posts on the external fence.

The Federal Immigration Department confirmed there was an incident at the centre but said it was too early to comment.

A press conference is expected to be held later today.

The drama unfolded as the High Court prepares to reveal the fate of the federal government's controversial Malaysian refugee swap deal.

The court's full bench will rule on the policy's lawfulness this afternoon after a challenge brought on behalf of asylum seekers facing deportation.

Refugee lawyers want the deal struck down, arguing that Immigration Minister Chris Bowen does not have the power to send asylum seekers to a country that has no legal obligations to protect them.

They also argued that sending unaccompanied minors to Malaysia would breach Mr Bowen's duty of care as their legal guardian to act in their best interests.

But commonwealth Solicitor-General Stephen Gageler argued the government could lawfully declare Malaysia a safe third country even though it had no domestic or international legal obligations to protect asylum seekers.

The court issued an injunction against any deportations until its verdict was delivered.

The Department of Immigration and Citizenship says more than 330 detainees will be flown to Malaysia "as soon as practicable" if the court upholds the policy.

Under the deal, the government plans to send 800 asylum seekers to Malaysia in exchange for 4000 already processed refugees.
http://www.dailytelegraph.com.