09 August 2011
Gang guilty of luring girls to horrific rape
Shahid Hussain, 37, of Drake Street, and Tanveer Butt, 39, of St Alban's Street, took part in the sickening attack alongside Hussain's brother Amjad Hussain and Stephanie Knight.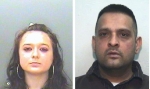 Burnley Crown Court heard how the victims were invited to go out clubbing by Stephanie Knight.
But instead they were plied with alcohol and drugs and driven to a squalid house in Accrington, where one of the girls was forced to have sex with the three men.
Amjad Hussain then raped both girls as he drove them home in December 2009.
Knight sobbed in the dock as the jury found her guilty of the sex plot after a three-week trial.
The jury had been told that Knight had called the three men her 'boys' and had stopped the second girl going to her friend's aid when she was being raped by Shahid Hussain.
Knight, 18, of Queen Street, Rawtenstall, Amjad Hussain, 34, of Sharples Street, Accrington, and married father-of-four Butt were all convicted of two counts of conspiracy to rape.
Knight and Butt were also found guilty of aiding and abetting rape.
Shahid Hussain was convicted of three counts of rape. Butt was convicted of one count of rape, and Amjad Hussain was also found guilty of three counts of rape and one count of assault.
They will all be sentenced on September 2. They have been told to expect long jail terms.
Shahid Hussain was cleared of the two allegations of conspiracy to rape by the jury, on the direction of Judge Beverley Lunt.
Butt was also found not guilty of two rape charges.
DS Paul Langley said: "These two girls thought they were going for a night out and instead were given alcohol and drugs and taken to a strange house where they were subjected to an horrific sexual ordeal at the hands of three much older men.
"What's worse is that this abuse was facilitated by someone the victims believed was their friend.
"While many victims of child sexual exploitation do not see themselves as victims and have acted voluntarily, it is clear in this case that these girls' actions were neither voluntary nor consenting."
Knight, who was having a sexual relationship with Amjad Hussain at the time, told the jury she and Amjad Hussain had started off as 'friends with benefits' but she had fallen in love with him.
Giving evidence, she had claimed she had not agreed to provide the men with girls to have non-consensual sex with.
http://menmedia.co.uk/