07 August 2011
Punjab: Christian woman forced to convert and marry her kidnapper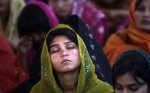 Mariam Gill was abducted on her way home from the market. Her father and brother filed a complaint with police, which failed to intervene however because her kidnapper is "a respectable Muslim businessman". A Muslim religious leader says the action was in accordance with Islamic law. Islamabad bishop warns that cases of forced conversion are "rising at an alarming rate".
Islamabad (AsiaNews) – Another young Christian woman in Pakistan has been abducted and forced to convert to Islam and marry her kidnapper. Despite a formal complaint, police did not intervene because the author of the crime is a "respectable businessman". Local Muslim religious authorities also claim that the woman's conversion was legal. However, her case however is similar to that of Farah Hatim (see Jibran Khan, "The drama of Farah Hatim, common to many women in Pakistan," in AsiaNews 25 July 2011) and is indicative of a climate of impunity for people who abuse Christian women. The bishop of Islamabad warns that the "the cases of forced conversion are rising at an alarming rate".

Mariam is a young Christian woman from Kahota, a town some 20 kilometres from Pakistan's capital of Islamabad. She was abducted on Wednesday by one Muhammad Junaid, a local Muslim, who forcibly converted her to Islam and married her.

The young woman's father, Munir Gill, said that Junaid is an "important businessman". He had "his eyes on my daughter and asked her for marriage." He complained to the man's fathers "without results".

"Mariam went to the market on Wednesday, but never returned," said her brother Sohail Gill. "We searched for her everywhere. Some people in the market told us that they saw Muhammad Junaid forcefully taking Mariam from the market. We went to the police to register a case, but they delayed the application and showed no interest in the matter."

Yesterday, a local Muslim religious leader, Maulana Hafeez Aziz, "converted Mariam to Islam and celebrated her marriage with Muhammad Junaid".

"Muhammad Junaid is a respectable Muslim businessman," said Amir Mirza, a police officer in Kahota. "The young woman converted and married him of 'her own free will'.

For Maulana Hafeez Aziz, "Muhammad Junaid is a true follower of Prophet Muhammad. He has fulfilled Sharia. Converting a non-Muslim is a pious act. Only a true Muslim can do that."

Yesterday, Mariam Gill was interrogated by local officials. She told them that she was abducted and forced to convert and that she has no intention of abandoning Christianity.

At the end of the meeting, they decided to return the young woman to her family, urging the two sides to reach an agreement. However, Muhammad Junaid issued threats, saying that if he did not get the young woman back, there would be "terrible consequences" to pay.

Contacted by AsiaNews, the bishop of Islamabad Rufin Anthony described the case as "a dreadful incident". In his view, "the cases of forced conversion are rising at an alarming rate. The matter needs to be checked, kidnapping of Christian girls is becoming a common practice in Punjab. Law enforcement agencies need to enforce the law."

Young Christian women are not alone. Many young Hindu women have been forced to flee across the border into India in the face of government and police indifference.

"It is time to take concrete action to guarantee the safety of minorities in Pakistan," the prelate said.