18 July 2011
Muslim border protest: 'We're asking for equal treatment'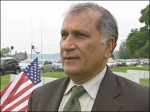 BLAINE, Wash. - Recalling the civil rights movement, one man says he's asking for equality - and is tired of being profiled because of his Muslim beliefs
Jeff Siddiqui of Lynnwood took his message Sunday to the U.S.-Canadian border, where he and a handful of protesters delivered their message, yards away from the Peace Arch.

Siddiqui, who is with the group American Muslims of Puget Sound, organized what he calls a peaceful demonstration to send a message to passers-by.

"We don't want a country where - to use Martin Luther King's words - where we are judged by the color of our skin or our faith," Siddiqui says.

He tells KOMO News he felt like he was targeted by a border official about a year ago when he tried to leave Canada and go through the checkpoint. Siddiqui describes what happened:

"After haranguing me for a while, and I told him to mind his manners, he said, 'Well, do you have anything in your van you don't want us to find?' And I said, 'What do mean?' He said 'Oh, like terrorists, guns, grenades under the seat.'"

Somewhere between 25 and 80 demonstrators were supposed to show up for Sunday's border protest - including some fellow Muslims. But only about six actually showed up.

Siddiqui says he knows why they didn't come.

"Muslims are terrified," he says. "They don't want to be targeted. They don't want to be identified, they don't want to be listed as trouble makers for future treatment, and they're just terrified even though they're citizens."

Hundreds of people saw the signs posted by Siddiqui and the others, which proclaimed such slogans as "Muslims Are Americans" and "U.S. Muslims: Doctors, Lawyers, Soldiers, Cabbies, Scientists, Politicians."

"I am Muslim myself, and we are not scary people," says a woman, Shamim, who was driving through the border and saw the demonstration. "We are just human beings like others."

Another motorist at the crossing, Masoud Amin, said: "If their right has been violated, let them have their rights. But I think there are Muslim groups that have to be stopped."

Siddiqui says Sunday's action is aimed at bringing awareness - whether it's criticism or compliments, he says it doesn't matter.

"We're asking to be treated on an equal footing, as the rest of America," he says. "I don't think that's too much."
http://www.komonews.com