07 July 2011
Stay Away from Christians, Boko Haram warns Muslims in Nigeria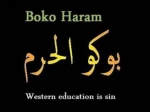 The Boko Haram menace has taken a dramatic twist with its call on all Muslims in Nigeria to stay away from Christians, Security Agents, Government institutions and functions or face death
It maintained that since the present Federal Government is not Islamic, every employee is considered an infidel marked for elimination.

This came on the heels of reports that the group just stormed the divisional police headquarters in Toro Local Government area of Bauchi state, carting away arms and ammunition. It was not clear if any police officer was murdered.

The deadly group urged Muslims to stay away from Christians, their houses, businesses and churches because they are targets of attacks.

This warning is contained in a statement issued by the spokesman, Abu Zaid and exclusively obtained by pointblanknews.com.

According to Zaid "The only dialogue in this crisis is as follows: Stop abiding by the constitution in our land (Dualan Usmaniyya), and government must be sincere and stop terrorizing Muslims in Maiduguri and parts of the North, then there should be a time limit for ceasing fire to gauge Government commitment in keeping to its promise, which cannot be more than ten years."

The group boasted that it was yet to employ 5 percent of its military might and weaponry.

Said Zaid "What is holding us back is the innocent civilian population, but as soon as people stay clear from security agents we will launch a full-scale attack. Unarmed Muslims were picked up from their homes and from their hospital beds and summarily executed; the world saw it on AlJazeera. Yet the same Government wants to forgive us for the wrongs they meted on us. In actual sense, we are the ones that should give amnesty to the Borno State Government."

According to Boko Haram "We as a group don't kill people who are innocent. What we are trying to tell people is that, in regaining the pride of the people in Islam, people have to endure in losing their properties and sometimes lives are also involved and this can fall on everyone, including us."

The statement continued "This is a government that is not Islamic. Therefore, all its employees-Muslims and non-Muslims are Infidels. This is a Government which naturally fights Islam because Muslims were killed were killed in Zagon Kataf, in Jos and Southern Kaduna but the perpetrators have never been prosecuted by the so-called existing laws of the land. Mosques were destroyed and punishment for this is death. Therefore, we have the right to kill them all. But if there are people who profess Islam and do not take part in Government or Western Education, their blood and wealth are sacred unless otherwise."

The group also explained how they get finance and ammunition "Nobody is asking the Niger Delta Militants where they are getting the weapons, nobody is asking Christians in Jos and Southern Kaduna the source of their funds to buy weaponry, but they are questioning where we are getting ours! It is very easy to get weaponry in this part of the world. Each day we look for money through lawful means. We task ourselves and sell our properties like Houses and cars since we are now fugitive and use the proceeds to buy arms."

The statement said the group would only accept the apologies of former Governor Ali Modu Sheriff, if he dissociates himself from" anti-Islamic activities such as democracy, etc, and withdraw his support or contribution to either his cronies and political associates nationwide, then he should come and join us to fight the system he helped build even as an adviser. We believe Allah will forgive him because it is not us that he has wronged but Allah because he is committing shirk (unbelief)."

According to Boko Haram "We are not in doubt that we are going to win this war. So far we have an upper hand. Even if it means bringing external forces, we will fight to win. History has shown that when you are fighting in the cause of Allah there will be a divine intervention, which we have so far seen with the ongoing war with security agents"

The group that has murdered dozens of policemen in recent weeks concluded " Our cause is purely religious. Muslims should try as much as they can to be neutral. And we are aware that traditional rulers, religious leaders and house owners etc are meeting in different parts of the north on how to undermine our activities and track us down. We urge them to stop; if not we will turn their areas and states like Maiduguri."