05 July 2011
Hindus protest Muslim prayers at school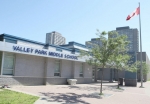 TORONTO - Hindus from across Toronto plan to protest outside a North York, Ont., middle school until a controversial Friday prayer session for 400 Muslim students are stopped.
The Canadian Hindu Advocacy is one of a number of Toronto-area groups opposed to the 30- to 40-minute services held in the cafeteria of Valley Park Middle School from November to March.
An imam from a local mosque is brought to school to head the service, officials said. During the service, male students are made to sit in front of the girls.
"This is alarming and unacceptable," said Advocacy director Ron Banerjee. "We respect the separation of church and state."
He said his group will be sending letters of protest to the Toronto District School Board (TDSB) and calling for an end to the noon-hour services.
"There's not supposed to be any religious classes taking place in public schools," Banerjee said. "We will be asking the board to stop the practice."
He said school officials stopped students from reciting the Lord's Prayers years ago and his group will picket the Muslim classes if the practice isn't stopped.
"Our organization has received many complaints from Hindu students and parents in the Valley Park Middle School region," Banerjee said.
He said his group would like to begin a discussion with TDSB authorities aimed at restoring secular education within the school system.
"We would also like to discuss the serving of halal meat within TDSB schools," he said. "Our organization is determined to ensure all Hindu students are provided non-halal meat alternatives."
Area resident Khalid Sheikh, who claims to be president of Parents For School Not for Political Parties, said local school councils have been "hijacked and controlled" by Muslim groups and political parties.
"Neutral parents who do not like this political stuff in our schools are neglected," Sheikh said. "For God's sake, stop this nonsense in our schools."
Area trustee Gerri Gershon said "there are many tensions within the community.
"The school should not be focused on these tensions and politics but have a wide representation of young people," Gershon said.
She said the program began after discussions with parents, community leaders and the school administration.
Malcolm Buchanan of Civil Rights in Public Education said he has no problem with the Muslim prayer service, as long as it doesn't take place during classes.
"Schools are for learning and not religious ideology," Buchanan said. "We have no problems as long as it doesn't take place during school time or the kids are not forced to take part."
TDSB officials said Monday the prayer sessions have been taking place for three years and are designed to help with the safety of students, sso they don't have to leave school to attend mosque.
The officials said the prayer sessions are working well and they haven't been approached about making changes