28 June 2011
City workshops to unveil the real Islam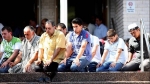 A series of events to debunk stereotypes around Islam are being held in Preston.
Preston Muslim Forum is hosting a series of events called 'Unveiling Islam - beyond prejudice, myth and stereotype' starting at Christ Church, Victoria Road, Fulwood, on Thursday, July 7 at 7pm.
The event aims to look at the history of Islam and Muslims in Britain.
On July 20 at Emmanuel Church, Brook Street, Preston, at 7pm organisers are hosting a workshop called 'Jesus in Islam', exploring the similarities and differences in the way Jesus is depicted by Christians and Muslims.
Then on July 25 at the Harris Library in Preston city centre there will be a workshop exploring the shared beliefs between different faiths. The event starts at 5pm.
All events are free and are open to all.
http://www.lep.co.uk