10 June 2011
sesame……. 14 YR.OLD COMMITS SUICIDE AFTER BRUTAL GANG RAPE BY MUSLIM BOYS…….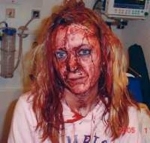 It doesn't get anymore real than this folks, wild hordes of Muslim immigrant 'youths' preying on young white girls because their own kind are off limits. Do all Muslim youths commit such deeds, of course not, but enough of them do to make it a serious enough situation and danger for ethnic Norwegian girls, Fjordman has been reporting on it for years. KGS
14-year-old took her life because of group rape
A 14-year-old girl in Trondheim took his own life after being assaulted and raped by three teenage boys. Only four weeks after she reported the rape at Kristiansten fortress, ninth grader could not bear to live any longer.
The girl's mother believes the group rape is the direct cause of why her daughter chose to take her life two weeks ago:
- This shows how brutal consequences of such a serious crime can get, "said her mother through her daughter's counsel, Sigrun Dybvad.

Her mother has consented to the Adresseavisen's mentioning the tragic incident, and she has provided information to the case. The incident has shaken many in Trondheim. Address newspaper has in recent days received emails and phone calls from desperate and upset parents. Over 1300 people have joined in a memorial group for 14-year-old online community Facebook. Tuesday this week met with 245 people up to say goodbye when she was buried in the Lutheran Free Church.
Police in Trondheim is worried after five unsolved assault rapes or attempted on the same page 1 April. In three of the five cases , several perpetrators, all of which are described as African or Middle Eastern men. Police believe that the rapes have been planned in advance.
The evening before 1 May facilitate the ninth grader for her friends when she was stopped by a young man of foreign origin. According to 14-year-old's explanation, he tried to stay around and kiss her. When she responded that she would meet a friend, he said he knew this friend. This thought ninth grader, and went with the man. Shortly after the assault began:
Ninth graders noticed that two other teenage boys came walking, and thought at first that they came to help. Instead, they have helped to keep her down. The girl told that she tried to shout for help, but that there was so much noise that no one heard her.

While peers attached very close, and while both the police and about 50 night owls patrolling the area, the 14-year-old testified that two of the perpetrators managed to rape her, before she got loose from the third. Then she ran from the scene, and away in the direction Nonnegata. There, she met a couple who should have immediately understood that something had happened and helped her home.

The girl has described the perpetrators as teenage boys in 16-17-age of foreign origin

http://tundratabloids.com/2011/06/14-yr-old-commits-suicide-after-brutal-gang-rape-by-muslim-boys.html