10 June 2011
Muslim worker sues Catholic diocese for religious discrimination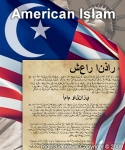 A Muslim woman has filed a religious-discrimination lawsuit against the Diocese of Allentown, Pennsylvania, claiming that she was dismissed from her job at the diocese because of her faith.
Omayma Arafa, who was a part-time clerical worker, charges that she was fired by a priest who did not respect her religious beliefs. To support this charge, she recalls that she was required to take a lunch break during Ramadan although she was not eating lunch.
Source(s): these links will take you to other sites, in a new window.