01 June 2011
Paedophile Pakistani illegal immigrant case leaves £100k legal bill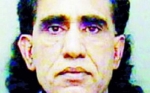 A paedophile illegal immigrant who was allowed to stay in Britain claiming deportation would breach his human rights has finally deported from the UK after a legal battle that has cost taxpayers up to £100,000
Zulfar Hussain, a convicted child-molester, had initially won a court fight to dodge being deported out of Britain last year because he has a wife and two children living here.
It is believed an immigration judge was presented with an application for a ''right to family life'' under Article Eight of the Human Rights Act - and agreed to let him return to his home in Blackburn, Lancs.
But the Home Office appealed against the decision and kept Hussain, 48, in an immigration detention centre after his release from prison.
On Monday it emerged Hussain had been sent back to his native Pakistan at the weekend after he lost his case following a series of court hearings.
The convicted sex offender had been jailed for five years and eight months in August 2007 after he was convicted of child abduction, sexual activity with a child and supplying youngsters with ecstasy after he lured two girls into a sex trap.
http://www.telegraph.co.uk/news/uknews/law-and-order/8546222/Paedophile-Pakistani-illegal-immigrant-case-leaves-100k-legal-bill.html?sms_ss=email&at_xt=4