11 May 2011
American flag flown upside down outside Turkish American community center in Manalapan draws protestors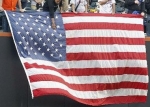 MANALAPAN — More than 20 people protested after an American flag was flown upside down outside a Turkish American community center in Monmouth County.
Center President Mehmet Reyhan told the Asbury Park Press he doesn't know how it happened. But on Tuesday he ordered the flag taken down, along with the flags of Turkey and Northern Cypress, because he's afraid it could happen again.
An upside down American flag is a signal of distress.
Reyhan says the center in Manalapan has served as a celebration hall for Turkish, American and Muslim religious holidays for 25 years. It has 350 members from as far away as New York and Pennsylvania.
Betty Bailey, who helped organize the protest, says center officials should have noticed that the flag was not correctly displayed.
Read the full story in the Asbury Park Press.