25 October 2010
Toronto mayoral campaign ends on a hateful note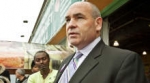 Joe Pantalone, George Smitherman and Rob Ford ended their campaigns at subway stops, a farmers' market and voters' front doors – but the campaign itself ended in the mud.
The final weekend of Toronto's too-close-to-call mayoral race veered into dirty territory with an advertisement on Tamil radio and derogatory signs that denigrated Mr. Smitherman for his sexual orientation.
Liveblog: Ford wins Toronto mayoral race
Mr. Ford said neither he nor his campaign were behind the signs or the radio spots, which he condemned as "absolutely wrong."
The 11th-hour attacks illustrate the high stakes and divisive nature of Monday's election, which will likely come down to who votes in greater numbers: those who love Mr. Ford or those who loathe him.
Mr. Ford ducked the media for most of the weekend.
His campaign refused to release his schedule or make him available until 3 p.m. Sunday, when he arrived at his Etobicoke campaign headquarters to greet cheering volunteers.
"Talk to my poor feet," Mr. Ford said, laughing. "We were out and about. We were hitting a lot of spots [Saturday] and I continue to do that. I don't want the competition following me around."
Most recent polls suggest that Mr. Ford and Mr. Smitherman are virtually tied, with a lagging Mr. Pantalone poised to be the spoiler.
That's why Mr. Smitherman made a final plea Sunday for the deputy mayor's supporters to switch allegiances, while Mr. Pantalone urged them to stay loyal.
"I think, especially for people that are of progressive values, they need to be reminded that I have progressive values," Mr. Smitherman said while stumping at the Downsview Park Merchants Market and a bakery in the Lawrence Avenue and Bathurst Street area.
"You'd be surprised how many people I meet who aren't voting for the other two and who say they want to vote for what they believe in," Mr. Pantalone countered.
Some fierce ward fights, coupled with the tight mayor's race, are expected to drive up voter participation, but showers in the forecast could dampen turnout.
Mr. Smitherman was furious about a 35-second advertisement that aired on the Canadian Tamil Broadcasting Corporation (CTBC) during a program hosted by a local church called the Miracle Family Temple. The apparently paid advertisement features two people discussing who to vote for in the Toronto election.
"What kind of question is this?" one of the characters says. "I am Tamil. We have a religion and culture. Take Rob Ford: His wife is a woman."
Mr. Smitherman is married to Christopher Peloso and has an adopted two-year-old son.
The candidate's marriage was also the target of smear flyers affixed to some of his lawn signs on the Danforth and in the Beaches.
The flyers featured photos of Mr. Smitherman and Mr. Peloso and read "Should Muslim vote for him who married a man?"
As for the CTBC, it did not immediately say who created or paid for the ads.
However, a spokesman for another broadcaster, Canadian Tamil Radio, said his station was offered the ad by Miracle Family Temple as part of a regular package. The station rejected the ad.
"We review the audio that we get from them [Miracle Family Temple,]" said Ragavan Paranchophy, director of community development and public relations for Canadian Tamil Radio. "[We] listened to this and said, 'Okay, this looks like a political message and on top of that it's not something we would air.' "
The Miracle Family Temple's pastor and registered owner of its website, David Loganathan, denied creating or funding the ad.
"No. It's absolute nonsense," he said. "We didn't even know there was an ad. It might have run during our program; that doesn't mean it was our ad."
Other prominent members of Toronto's Tamil community denounced the radio ad.
"This is completely unacceptable," said Canadian Tamil Congress
spokesman David Poopalapillai.
http://www.theglobeandmail.com