25 October 2010
Nigeria court rejects 'forced marriage' case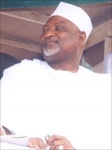 A Nigerian high court has dismissed a case brought by a 26-year-old woman who says her father forced her to marry a senator
The judge said her human rights had not been violated and it was a matrimonial matter for an Islamic court.
Zainab Isa Mayana was married to the senator of Zamfara State, Sahabi Ya'u, 54, in July at a ceremony where she was represented by her father.
She says she has never met him and her father knew she was already engaged.
Sokoto, where the trial took place, was one of several northern states to re-introduce Sharia law after the return to democracy in 1999.
'Courageous'
The BBC's Haruna Shehu Tangaza in Sokoto says that these days forced marriages are frowned on in the predominately Muslim north of Nigeria.
People have generally supported Ms Mayana and she has been seen as courageous in bringing the case against her father and Senator Ya'u, he says.
Judge Isiyaku Mohammed said under the constitution, the federal court could not intervene in the affairs of an Islamic court.
Ms Mayana was not in court for the ruling, but her lawyers told the BBC they would not relent in their efforts to dissolve the marriage as she was not married to a man of her choice.
They said they would file a new case at "an appropriate court", which by implication would be an Islamic court, our reporter says.
Ms Mayana, who is studying at Ahmadu Bello University, says she has been engaged to another man for five years.
Senator Ya'u was already married before his wedding to Ms Mayana in July, although it is not known exactly how many wives he has, our correspondent says.
Under Islamic law, a man can take up to four spouses