23 September 2010
'We are English nationalists acting out of frustration': Defiance of yobs who set fire to the Koran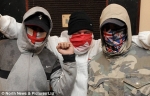 Six men could face charges of inciting racial hatred after a video of them burning copies of the Koran on the anniversary of 9/ 11 was posted on YouTube

The video shows the men – wearing tea towels around their heads – setting the Muslim holy book ablaze after dousing it with fuel behind a pub in Gateshead, Tyneside.
At one point, a laughing man kicks what appears to be a Koran while his friends shout: 'This is for the boys in Afghanistan. September 11, international burn a Koran day, for all the people of 9/11.
This is how we do it in Gateshead, right.'
Six days after it first appeared on YouTube, police were alerted to the video and arrested two men, aged 45 and 37, on suspicion of inciting racial hatred.
Four more men, aged 23, 31, 39 and 42, were arrested yesterday and questioned at Gateshead police station.
With fears of a possible backlash against British troops abroad, the files have been referred to Attorney General Dominic Grieve to decide whether to bring criminal charges.
All six men are from the same estate in the town and have been granted bail until mid-November while the Crown Prosecution Service awaits guidance from Mr Grieve over whether to bring charges under the 1986 Public Order Act – charges carrying a maximum sentence of seven years in jail.
Tracked down by the Daily Mail last night, the men were unrepentant. They admitted burning the Koran but said they had nothing to do with the video being put on the internet.
Calling themselves ' English nationalists' but refusing to be identified, they claimed they acted out of 'frustration' that there was 'one law for Muslims' and another law for white English people.
The burning followed the worldwide outcry over plans by Florida pastor Terry Jones to burn copies of the Koran on the anniversary of the four suicide hijackings that left more than 3,000 dead in New York, Washington and Philadelphia.
Mr Jones backed down after he was told U.S. soldiers serving in Afghanistan would be put at greater risk by his actions.
Pastor Terry Jones had threatened to burn 200 copies of the Koran on the ninth anniversary of the 9/11 attacks
All six of those held claim to be members of the English Defence League, a far-Right group opposed to the spread of Islamism.
The men said they should not have been arrested because ' Muslims are allowed to burn British flags'. One man, a 37-year- old unemployed father, said: 'It wasn't so much planned as more we were driven to do it.
'Now there seems to be one law for them and one law for us. They can burn a Union Flag and the Stars and Stripes, but we get arrested for
burning a few sheets of paper.' Des Feely, 57, whose daughter Corporal Sarah Bryant, 26, was killed in Afghanistan two years ago, condemned the men's actions.
He said: 'Sarah went to the trouble of buying a copy and reading it while she was out there.
'Instead of burning it and causing more distrust and hatred, she read it to gain some understanding.'
Gateshead Labour MP Ian Mearns said: 'If this is publicised widely this could actually endanger our troops and British citizens who are in other parts of the world.'
The video is believed to have been filmed in the backyard of The Bugle pub in Leam Lane, Felling.