23 September 2010
Doctor: Workers in Neb. plant shot several times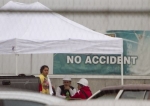 CRETE, Neb. – A worker entered the lunchroom of a cold-storage food warehouse in southeastern Nebraska and started firing a handgun, wounding three employees — including a woman who was shot 11 times — before going outside and killing himself, authorities said Thursday.
Officials gave no information about why the man, identified as 26-year-old Akouch Kashoual of Lincoln, began shooting at the Americold Logistics plant near Crete around 9:50 p.m. Wednesday. Afterward, Kashoual went outside the plant and shot himself in the head, said Saline County Attorney Tad Eickman.
Several people who said they were Kashoual's relatives gathered on the balcony outside his apartment near the state Capitol on Thursday afternoon, but declined to comment. No one answered at the phone number listed for him. Eickman said Kashoual's permanent residency card lists Sudan as Kashoual's birth country.
The three people wounded all work at the plant and live in Crete, Eickman said.
The most seriously wounded, 40-year-old Elizabeth Canas, was taken by helicopter about 30 miles from Crete to Lincoln late Wednesday night with 11 gunshot wounds to her torso and arm.
Dr. Reginald Burton, a trauma surgeon at BryanLGH Medical Center West in Lincoln, said the injuries to her liver, spleen, colon, diaphragm, kidney and arm required surgery that lasted all night. By Thursday afternoon, she was listed in critical condition and had not fully regained consciousness.
Burton said a second victim, 23-year-old Renee Villareal, was shot four times and had surgery. He was released from the hospital Thursday afternoon.
A third victim, 42-year-old Paul Rivera, was treated at a Crete hospital and released Thursday.
Saline County Sheriff Alan Moore told the Lincoln Journal Star that about 35 people were at the facility when the shooting occurred. Spent shells were found inside in the cafeteria and other areas as well as outside the building, Moore said.
"When we first came across him, it appeared that it was a self-inflicted wound that ended it," the sheriff Moore said, referring to the gunman.
Moore did not return several messages left Thursday by The Associated Press and would not speak with a reporter at his office.
Americold said it was cooperating with investigators and offering workers at the plant counseling but did not give any details about the shooting.
"We wish to extend our sincere thoughts and prayers to our co-workers' families and friends," spokeswoman Samantha Cohen said in a statement. She declined to comment further on the shootings.
At the plant on Thursday, workers could be seen milling around plant doors, but security guards posted at the gates kept reporters from entering the facility. The guards said only employees and delivery drivers were allowed inside, and that plant officials would not come out to talk. The guards also asked reporters who attempted to talk to employees to leave.
Brian Schwisow, president of the United Food and Commercial Workers local that represents Americold workers, said in a statement that he was gathering details about the shooting.
"UFCW Local 271 will do everything in our power to see that all workers have access to specialists and medical assistance to heal and recover from this incident," the statement said. He did not immediately return a call for comment.
The Americold facility is a couple of miles south of Crete and next to a Farmland Foods plant. Both were locked down immediately after the shooting, although authorities don't believe the gunman ventured onto Farmland property. By Thursday morning, both plants had reopened.
Americold's website describes it as the largest temperature-controlled food storage network in the U.S., with about 100 facilities nationwide. Food producers, distributors and retailers rely on temperature-controlled warehouses to protect the products they sell.
___
Associated Press Writers Josh Funk and Nelson Lampe in Omaha, Neb., contributed to this report.