23 August 2010
In defense of Islam, vigilante justice in Indonesia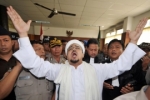 Indonesian government sits idly by as Islamic Defender's Front, called thugs by most, runs amok
By Sara Schonhardt — Special to GlobalPost
Published: August 23, 2010 06:44 ET in Asia
JAKARTA, Indonesia — They call themselves the Islamic Defenders Front and they say their mission is to stamp out sinful acts and to protect the poor and marginalized.
But the majority of Indonesians in this moderate Muslim nation call them thugs. They say the FPI, as they are known here, are tarnishing the image of both Islam and Indonesia.
In only the last few months the group has been accused of attacking churches, raiding suspected communist conferences and waging assaults against minority religions.
A showdown took place in the Jakarta suburb of Bekasi earlier this month when a stick-wielding mob of FPI members attacked and beat around 20 members of the Batak Christian Protestant Church.
And through it all, Indonesia's secular government has largely stood idly by and, in some cases, offered support. In most cases the country's leaders have remained silent, even as FPI attacks grow increasingly frequent and increasingly violent.The FPI argues that the Batak congregation is worshipping without the proper government permits and is threatening Muslim society by proselytizing.
Bonar Tigor Naipospos, vice chairman of the Setara Institute, which works to promote democracy and peace, said the FPI is using the threat of Christianization to strengthen their position, to gain sympathy and spread their ideology to their followers.
According to a recent study by the institute, acts of violence against Christians are on the rise, which could signal that religious tensions, which always seem to be simmering in Indonesia, are coming to a boil.
"Some politicians in the West use Indonesia as a model of moderate Islam, but behind the surface the embryo of intolerance still exists," Naipospos said. "And if the Indonesian government doesn't do something, this embryo will get stronger."
During an Islamic congress in June, FPI leader Habib Rizieq said evangelicals were Christianizing Muslims by offering them social services like free health care and education. They were also performing hypnosis and constructing illegal churches, he said.
Murhali Barda, the leader of the FPI's Bekasi branch, had been preparing for a clash.
"My Muslim brothers...!!! Come to Ciketing..!!" He wrote on his Facebook page the day before the attack. "Help our brothers that were walked all over by the Batak people … church business people, moneylenders, pig and dog eaters!"
Angry tweets began trending on Twitter after news of the attack broke, just one among many in recent weeks. Forced church closures and protests against community activity, such as the butchering of pigs, have also made recent headlines.
The occasion forced Indonesian President Susilo Bambang Yudhoyono to break his silence on FPI's attacks. The president, however, said only that anarchic behavior would not be permitted during the Islamic holy month of Ramadan.
"But it is permitted," said Sidney Jones, a senior analyst at the International Crisis Group, which monitors security issues. "The easiest thing would be to arrest the perpetrators, and it's not clear to me why they have refrained from doing so."
In 2008, following an assault on a peaceful rally in support of religious freedom, police did arrest nearly 60 FPI members, including Rizieq. The FPI kingpin was later sentenced to 18 months in prison for helping organize the attack against the supporters of Ahmadiyah, an Islamic sect many conservative Muslims consider heretical since they refuse to accept Mohammad as Islam's final prophet.
But the arrests were mostly a response to public outrage. And while the government stopped short of completely banning the Ahmadis as the FPI had demanded, it did issue a ministerial decree prohibiting Ahmadis from practicing their faith or proselytizing in public, appearing to again side with religious hardliners instead of religious pluralists.
Jones said it was unacceptable that the Indonesian police and military have stood by and let these attacks continue. Individuals in the FPI should be prosecuted for assault, but the police should also be held responsible, she said.