21 August 2010
Muslim Miss USA: Move the mosque!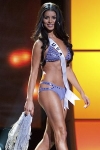 Looks like Miss USA -- a practicing Muslim and the first Arab-American ever to snag the sparkly crown -- won't be unrolling her prayer mat in the mosque near Ground Zero

Rima Fakih, a Queens-raised daughter of Lebanese immigrants, said she respects freedom of religion but believes the proposed $100 million Islamic cultural center is too close to the site of the worst domestic terror attack in US history.
"I totally agree with President Obama with the statement on constitutional rights of freedom of religion," the beauty queen said in an interview with "Inside Edition" that aired yesterday.

I also agree that it shouldn't be so close to the World Trade Center. We should be more concerned with the tragedy than religion."
Fakih -- who graduated from St. John's Prep HS in Queens before relocating to Michigan with her family -- spoke to the TV show while she was practicing for Monday's Miss Universe pageant.
She and Obama might have different views on the mosque, but the Lebanese-born stunner harbors no ill will toward the president.
In fact, she dedicated her barely-there costume for the beauty extravaganza to Obama.
Fakih unveiled the sexy get-up in a YouTube video, saying, "Mr. President, the amazing costume I will wear during the Miss Universe pageant represents the celebration of life, liberty and all that is American."
She said she dedicated the gold lamé outfit -- a Victoria's Secret-like interpretation of the American eagle on the presidential seal featuring massive gold wings and little else -- to Obama as "a tribute to your work to bring peace to the world."
Fakih's stance on the controversial mosque is not the first time the pageant winner has made headlines for her off-stage activities.
Pictures of the 24-year-old -- who recently told the Detroit Free Press she was fasting for Ramadan while preparing for Miss Universe -- pole dancing surfaced shortly after she won the crown.
The shots were taken in 2007 at a dance contest, and included images of her working her way up a stripper pole in tight shorts and bopping around with dollar bills in her bra.