19 August 2010
Growing Number of Americans Say Obama is a Muslim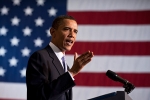 A substantial and growing number of Americans say that Barack Obama is a Muslim, while the proportion saying he is a Christian has declined. More than a year and a half into his presidency, a plurality of the public says they do not know what religion Obama follows.
click here for all the inf :
http://pewforum.org/Politics-and-Elections/Growing-Number...