28 June 2010
Surprises "comedy" in the cause of "the martyr of the government," Menoufia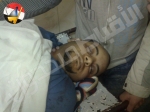 News and reports from our correspondents forensic report: private gun by the police, the Secretary of the defect that could shoot without pressing the trigger.!!
Some lawyers rejected the case because Shaw does not have a media and activists in human rights demanded payment under the account and then get a percentage of compensation.!!
The most sad is the size of the brouhaha about the martyr Khaled police and lack of interest or Altktim about what happened to the owners.

Books: Emad Thomas - Special Copts United
Mr. Sameh Naeem dawn, the husband of a sister village of Shaheed Tata Menoufia, which was shot by the Secretary of the police, in the month of February, several surprises on the implications of the case.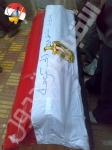 Where the visit, "said Sameh" Copts United "to the forensic report came after a long wait, a comedy story that the weapon by the police, the Special Secretary of the defect that could shoot without pressing the trigger. He pointed out that the forensic doctor was a medical doctor and the responsibility of examining the arms as this post weapons expert and not a doctor. Naim says: So that was the case of a conflict with a weapon, police said the investigation he had pressed the trigger twice went out to kill the owners of the first and the second got stuck in the pistol and he was to draw them, ie, that the gun did not fire himself.

Acquittal
The more things comedy - as described in the husband's sister martyr, occurred in the second session of the trial of the accused, Amin Mohamed al-Baghdadi, pleaded not guilty by the judge, as if he killed a stray dog has no value.

He adds: The resumption of work and accepted by the prosecution In the first meeting has been postponed pending the presence of the accused to be detained for the same issue for two months by a military court which expires on July 17 next year.

National attempts to reconcile
The bliss, that there were many attempts to reconcile by the people of the offender or of the donors of researchers for fame such as town council members or the National Party with the promise to give Christians a place more to the prayers in exchange for keeping quiet about the right of owners but all such attempts are rejected by the family owners .

Traders cause
Reflects Sameh deeply regretted, for the traffickers issues Copts from lawyers and human rights representatives, he says: During our search for representatives for us lawyers, whether Christians or prosecutors search for human rights we ran into several figures of them to dismiss the case because they do not by Xu media and there is no place for famous of them promised to help because it works on human rights then we request that payment under the account and then get a percentage of compensation.
What was most saddened Sameh: is the size of the brouhaha about the martyr Khaled police and lack of interest or Altktim about what happened to the owners. Concluding the: not paying any compensation or otherwise.

Historical Background
The young owners Saad Aziz -23 years - Egyptian citizen, a resident of the village of "Tata" Menofia, was killed on Tuesday, February 9th, 2010 - shot by a security guard, police believe the host by turning to the Church