06 June 2010
Dad tells court woman 'must have had a mood swing'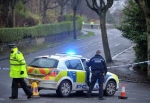 A father-of-four accused of raping a teenager in the back of his minicab today told a jury she was willing to have sex with him.
Mohammed Shazad, 36, of Brantdale Road, Heaton, Bradford, said he had danced with the woman at a Leeds nightclub about six weeks earlier.
He told Bradford Crown Court yesterday the woman knew he was not working when she got into his private hire vehicle in Leeds city centre at 5am on November 28 last year.
Shazad said he had held a private hire licence with Leeds City Council since November 2007 and was working for Timeline Taxis at the time.
He told the court he finished his nightshift at around midnight and went to a nightclub.
Afterwards, he saw the woman, then aged 19, in the street at 5am and reminded her of their previous meeting.
Shazad said she was happy to get into his cab.
He is accused of raping her in Blenheim Place, off Manningham Lane, Bradford, and then dumping her like a piece of rubbish in nearby Queen's Road.
Shazad, who was arrested on December 2, told police the woman wanted to have sex with him.
He said she then went quiet and told him 'We shouldn't have done that'.
He said the woman, who is from Bradford, wanted to be taken home, that her mood changed and that she was crying.
He said she asked to be dropped off in Queen's Road and that he left her barefoot by the roadside and went home to his wife and family.
Shazad, who pleads not guilty to raping the woman, told detectives she "must have had a mood swing".
He said she was happy to be in his car and enjoying his company until he lit a cigarette after they had sex.
Prosecutor Simon Phillips QC has told the jury the issue for them to determine is whether the woman consented to having sex with Shazad.
The trial continues.