06 June 2010
British air hostess 'kidnapped and raped in Dubai desert'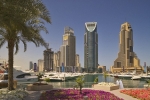 A British air hostess was kidnapped and raped in the Dubai desert after accepting a lift from a salesman, a court heard.
The 25-year-old victim was with her sister in a nightclub when she got into an 'emotional state' and left alone, it is alleged.
She tried to hail a taxi when a 30-year-old Jordanian man offered to take her home from the plush Dubai Marina Hotel club at 3.30am, the court was told.
Attack: The air hostess alleges she was raped after accepting a lift from a man near the Dubai Marina Hotel club
The stewardess accepted and sat in the passenger seat of his car.
However, he diverted from her normal route home, first driving around a car park.
When she asked him to stop the vehicle and let her go, he used the central locking system and drove off into the desert.
She said he eventually stopped the car and forced himself on her. She tried to kick the window to escape before the defendant, named as Mohammed Salem by the Sun, stripped and raped her.
A court source said yesterday: 'She said she couldn't resist his strength. She did not want sex. She was struggling so hard she kicked at the car's window trying to break free and yelled at him.
'She was attacked for 30 minutes before she got away from him and called her sister, who took her to the police station.'
The woman filed a complaint with Al Muraqqabat police station in the early hours of October 12, last year.
The defendant denies rape and drinking alcohol, which is an offence in Muslim Dubai, and will reappear in court next month.
The case comes after a 24-year-old British woman was allegedly raped by a 47-year-old Pakistani taxi driver in similar circumstances in the Arab emirate.
The defendant denies rape, claiming the alleged victim took off her clothes and offered sex to pay for her fare home.
The trial was adjourned until later this month.