23 May 2010
Prophet Muhammad's Holy Tradition Inspires Muslims Worldwide to Engage in Child-Marriage & Pedophilia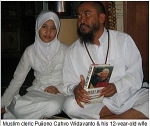 Nigerian Senator Ahmed Sani Yerima being one such prophet-inspired pedophile, who justified his marrying a 13-year-old Egyptian girl recently by referring to 52-year-old Muhammad's marrying of Aisha, aged 6.
Nigerian Senator (49) married a 13-year-old girl
On Wednesday, April 28, 2010, Nigerian senate ordered probe into a prominent Muslim senator's alleged marriage to a 13-year-old Egyptian girl, after the national rights watchdog and 10 other groups accused him of shaming the country by marrying a child. According to media reports, Senator Ahmed Sani Yerima (49) from the Zamfara State allegedly paid 100,000 dollars as dowry and secretly married the unnamed teenage girl at the National Mosque in the capital Abuja. The petition by the 11-body investigating committee was presented to the upper house by chairman of senate committee on Women Affairs and Youth Development, Senator Eme Ufot Ekaette. It said that the marriage violated Nigeria's Child Rights Act 2003 that forbids marrying a girl under 18 years of age. The offence calls for a punishment of 500,000 naira (3,320 dollar/2,500 euro) as fine or a five-year jail term, or both. The petition also urged the senate to investigate the allegations, and disclose the name of the alleged child-bride, her age and the circumstances of her entry into Nigeria.
According to another source, Senators called for the investigation after receiving a petition by protesting women's groups, who believe Mr Sani has broken the law. Caroline Duffield, a representative of BBC in Lagos, says that Nigeria's human rights commission has already begun an investigation.
While Talking to BBC, Mma Wokocha, President of the Women's Medical Association and one of those behind the petition, said, "What we are concerned with is that our minors, the girl children, should be allowed to mature, before going into marriage. This very evil act should not be seen to be perpetrated by one of our distinguished legislators."
The female senators, lawyers and doctors who are protesting say that they fear for the child's health. News reports have further accused the senator of marrying a 15-year-old girl in 2006, and divorcing her to marry the said 13-year-old Egyptian girl. It has been decided that a Senate committee will investigate the matter.
Senator Yerim, however, denied of committing any offence according to Sharia law.
"I have not done anything that violates Sharia, so I am not bothered about anything if anybody accuses me and I don't think I have committed any offence. There are laws laid down by Allah regarding marriage. In my position as a Muslim, I followed all the procedures for marriage in Islam. If I had violated any provision of the law in Islam, I would have been disturbed, the issue of age does not arise", he said.
He further referred to the marriage of Prophet Muhammad, who, at the age of 52, had married 6-year-old child Ayesha, and added: "It is true that I got married but it is not true that I married a 13 year old girl. But what I want to say on this issue is, when I was governor, I said on several occasions that Allah has made me to take life like any other Muslim. All the things that Allah said we should do and all the things that the Prophet said we should do, I have tried to do them."
But the plain truth is that he has purchased, in the garb of marriage, a 13-year-old Egyptian sex-slave, for $ 100,000. In a like manner, his Prophet also acquired child Ayesha by his political influence. While Muslims see as fulfillment of a holy prophetic tradition permitted by the divine law of Allah (see Q 65:4), any sane individual would find such incidents as nothing but nauseating and criminal pursuit of sex, with Prophet Muhammad being the originator of this trend amongst Muslims worldwide.
An Indonesian Cleric probed over child bride
Pujiono Cahyo Widayanto, aka Syech/Syekh Puji, a 43-year-old Muslim cleric and head of an Islamic boarding school (Ponpes Miftahul Jannah) in Bedono, Jambu, Semarang, Central Java, Indonesia, informally married 12-year-old Lutfiana Ulfa in August 2008. The wealthy Muslim cleric, also a businessman, was arrested by Police and questioned in court over his marriage to the minor village girl. The marriage sparked an outcry from civic groups in the world's most populous Muslim country, said the Jakarta Globe.
Widiyanto and his supporters say his actions are acceptable under Islam, but others say he should abide by state law, which sets 16 as the minimum age for marriage. Although Indonesian law carries stiff penalties for pedophilia, arranged marriages between older men and girls are not uncommon, especially in poorer rural areas.
Prosecutors had charged Pujiono of violating the 2002 law on child protection and article 290 of Indonesia's Criminal Code on child molestation for marrying an underage girl. "We've collected enough evidence to charge him with under age obscenity under the Criminal Code," said the chief detective Royhardi Siahaan. He was quoted as saying, "The charges carried a maximum of 15 years jail."
But after hearing the charges and the plea from the legal team of Pujiono alias Syech Puji, led by top lawyer O.C. Kaligis, presiding judge Hari Mulyanto deemed the charges unclear and inaccurate, meaning the trial could not proceed. On 14 October, reported Jakarta Post, Indonesian court acquitted cleric Widianto of charges of sexual molestation of a child for marrying an underage girl of 12. "It's a bad precedent. The decision is legally flawed. The judges have no commitment to upholding child protection laws," said Jakarta Post after the ruling. "We will redraft the charges immediately and file an appeal," said prosecutor Didik Djoko Ady after the trial.
In this case also, the cleric argued that he had committed no crime and said, "The marriage was allowed by his religion." Child protection advocates are quite correct that the ruling sets a bad precedent, but the precedent that contributes even more to the persistence of child marriage in Islamic countries is "Muhammad's own example, having married Aisha at the age of six, and consummating the marriage when she was nine."
Holy Tradition of the Holy Prophet
Nearly 15 years ago, I started reading Islamic scriptures and biographies of Prophet Muhammad. When I came across the fact that Muhammad, at 52, married Ayesha, a child of 6, I could not believe that a religious man or a Prophet could indulge in such a sordid and shameful thing. Yet amazingly, such a man is being treated as a holy Prophet by nearly 1.5 billion Muslims around the world. Today, many apologists are trying to prove, simply by twisting facts, that Ayesha was 16 or older, when Muhammad married her. But Dr Ali Sina, in his recent article Controversies About the Age of Aisha has conclusively proved that Ayesha was a child of 6, when she was married to Muhammad and when the Prophet consummated his marriage, she was 9 years old. There are several hadiths that conclusively mention this fact. A few of them are quoted below:
Sahih Bukhari Volume 7, Book 62, Number 64, says - :Narrated 'Aisha: that the Prophet married her when she was six years old and he consummated his marriage when she was nine years old, and then she remained with him for nine years (i.e., till his death).
Sahih Bukhari Volume 8, Book 73, Number 151, says - Narrated 'Aisha: "I used to play with the dolls in the presence of the Prophet, and my girl friends also used to play with me. When Allah's Apostle used to enter (my dwelling place) they used to hide themselves, but the Prophet would call them to join and play with me." (The playing with the dolls and similar images is forbidden, but it was allowed for 'Aisha at that time, as she was a little girl, not yet reached the age of puberty.) (Fateh-al-Bari page 143, Vol.13)
Sahih Muslim Book 008, Number 3311, says – "A'isha (Allah be pleased with her) reported that Allah's Apostle (may peace be upon him) married her when she was seven years old, and she was taken to his house as a bride when she was nine, and her dolls were with her; and when he (the Holy Prophet) died she was eighteen years old." (http://www.usc.edu/dept/MSA/fundamentals/hadithsunnah/bukhari/062.sbt.html#007.062.064)
One must wonder of what psychology was the Prophet of Islam, who, at 52, could look upon a 6-year-old child for his sexual partner—undoubtedly only fitting for a lustful and perverted Bedouin, and definitely unfitting for a civilized society and for a pious man, less so for a Prophet.
A group of Bangladeshi ex-Muslim in the U.K., while commenting on this aspect of the Prophet's life, said: "One who claims himself to be a messenger of God is expected to live a saintly life. He must not be given to lust, he must not be a sexual pervert, and he must not be a rapist, a highway robber, a war criminal, a mass murderer or an assassin. One who claims to be a messenger of God must have a superior character. He must stand above the vices of the people of his time. Yet Muhammad's life is that of a gangster godfather. He raided merchant caravans, looted innocent people, massacred entire male populations and enslaved the women and children. He raped the women captured in war after killing their husbands and told his followers that it is okay to have sex with their captives (Quran 33:50). He assassinated those who criticized him and executed them when he came to power and became de facto despot of Arabia. Muhammad was bereft of human compassion. He was an obsessed man with his dreams of grandiosity and could not forgive those who stood in his way."If she grows up and I am still alive I will marry her."
However, this precedence of Muhammad is inspiring Muslims around the world become pedophiles, the Nigerian Senator Hasan Yerim being one, who justified his shameful behavior saying: "All the things that Allah said we should do and all the things that the Prophet said we should do, I have tried to do them."
Child-marriage is common in Islamic countries. In Yemen, a quarter of the girls are married off before the age of 15, and over 50% before 18. Many of these child-brides die from genital injuries as their husbands forcibly rape the girls, not yet unprepared for sex.
Muslims justify such criminal sexual activity as a fulfillment of the Prophet's tradition, but they are not allowed to emulate every perverted sexual tradition of Muhammad. For example, to Muhammad's basket of scandalous sexual behavior and acts must be added the fact that he had married 22 times, and had about a dozen wives at the same time. But common Muslims are not allowed to emulate this sunnah, because Allah preserved it for the Prophet only, allowing Muslims to marry 4 wives only.
Muhammad had inducted a number of sex-slaves also to his harem, a shameful holy tradition of the prophet, which Muslims won't seek to emulate anymore today. Muhammad married Maimuna while he was in the state of muhrim, while performing pilgrimage. It is not difficult to imagine how chaotic it would be if the millions of pilgrims, who go to Mecca to perform hajj, want to marry in the state of muhrim to fulfill this holy sunnah of the Prophet. Muhammad seduced his daughter-in-law Zainab (wife of his adopted son Zeid) and ultimately married her. But most Muslims today would neither defend nor emulate this holy sunnah of the Prophet either.
More loathsome is the fact that even a crawling baby-girl could arouse sexual urge in the prophet of Islam. One day when he was visiting the house of a close companion, he saw his baby daughter crawling on the ground. Then he said: "If she grows up and I am still alive I will marry her." He died before she grew up. She was married to someone called Sufyan b. al-Aswad.