21 May 2010
Islamists Warn Iraqi Christians: "Leave Immediately or our Swords Shall be Placed Upon Your Necks"…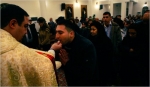 If only there was a huge number of mainly Christian troops in Iraq to protect these people…
MNN― Muslim extremists are warning Christians in Iraq to leave the country immediately or risk violent death. The threat mentions believers in Baghdad and Mosul–already troubled areas.
Voice of the Martyrs reports that an Iraqi bishop received a letter from the General Secretariat of the Islam Supporters warning Christians in Baghdad and other areas to "leave the country of Muslims (Iraq) for good and immediately in the form of mass transmigration." It continues: "You can follow Pope Benedict XVI and his followers who have disfigured humanity and Islam," the letter said. "There's no more room for you, infidels, among the Iraqi Muslims. Our swords shall be placed upon your necks and the necks of your followers and other Christians residing in Mosul."
Sunni Muslim insurgents have frequently targeted members of Iraq's Christian minority. Iraq's current government is Shiite-led. As a result, Christians have found that they are in the crossfire. Many thousands have already fled to neighboring countries.