28 March 2010
We're selling our hotel, say Christian couple in row with Muslim guest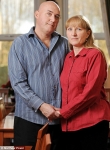 The two Christian hoteliers cleared last year of insulting a Muslim guest are being forced to sell up because their business has collapsed.

Ben and Sharon Vogelenzang are putting their nine-bedroom hotel up for auction in May because they can no longer pay the mortgage.
Despite donations sent to them by Christian supporters from around the world, they still have debts of well over £400,000
They are also considering a civil action against the police who brought the prosecution.
Mrs Vogelenzang, 54, said last night it was 'devastating' that they could be left with nothing as the result of a case that should never have come to court.
'Where do we go from here?' she said. 'How do we start all over again?'
The couple saw their Liverpool business brought to its knees after an investigation into what was deemed a religiously aggravated hate crime against Ericka Tazi. The 60-year-old white British convert complained that the couple had called the prophet Mohammed a 'warlord' and told her that Muslim women were oppressed.
The case against them was thrown out after a judge at Liverpool magistrates' court said it flew in the face of their right to freedom of religious expression.
After the victory, the couple hoped they would be able to revive the Bounty House Hotel near Aintree racecourse, which they had built up over ten years.
Four months later, however, they have failed to attract enough customers and are losing about £8,000 a month.
One of their main sources of income before the case was the National Health Service, which used Bounty House for doctors attending conferences and groups of patients on pain-relief courses at the Walton Centre, part of Aintree Hospital. But the centre stopped sending guests to the hotel after the complaint by Mrs Tazi, one of its patients.
'Before the complaint, we were their first choice,' said Mrs Vogelenzang. 'But they seem to have lost interest in us. Despite the excellent feedback we received at the end of every course, our reputation hasn't counted for anything. That is upsetting.'
The couple remain furious with the police for the way the case was handled and are consulting The Christian Institute, the independent pressure group that paid for their defence, about launching a civil action.
Lawyers believe they might be able to claim they were discriminated against because of their Christian background.
Mrs Vogelenzang added: 'Many people thought that when we won in court, everything would be OK. In reality, it has brought us to the brink of destruction, so it has not been a victory at all.'