26 March 2010
Islamic Extremists in Somalia Kill Church Leader, Torch Home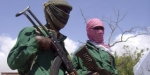 (Compass Direct News) - Islamic militants in Somalia tracked down an underground church leader who had previously escaped a kidnapping attempt and killed him last week, Christian sources said.
Islamic extremist al Shabaab rebels shot Madobe Abdi to death on March 15 at 9:30 a.m. in Mahaday village, 50 kilometers (31 miles) north of Johwar. He had escaped an al Shabaab attempt to kidnap him on March 2.
Abdi's death adds to a growing number of Christians murdered by Islamic militants, but his was distinctive in that he was not a convert from Islam. An orphan, Abdi was raised as a Christian.
Sources said the militants prohibited his body from being buried, ordering that it be left to dogs as an example to other Christians. Al shabaab, which is fighting the Transitional Federal Government (TFG) of President Sheikh Sharif Sheik Ahmed, has embarked on a campaign to rid the country of all non-Muslims.
"The al Shabaab say, 'Leaving Abdi's body outside is a warning to all that a murtid [infidel] is a disgrace to Muslims,' hence creating fear to whoever would like to choose Christianity," said a source.
In 2009 Islamic militants in Somalia sought out and killed at least 15 Christians, including women and children. This year, on Jan. 1 Islamic extremists shot an underground church leader to death. Having learned that he had left Islam to become a Christian, al Shabaab members murdered 41-year-old Mohammed Ahmed Ali after he had left his home in Hodan, on the outskirts of Mogadishu.
House Burning
The transitional government in Mogadishu fighting to retain control of the country treats Christians little better than the al Shabaab extremists do. While proclaiming himself a moderate, President Ahmed has embraced a version of sharia (Islamic law) that mandates the death penalty for those who leave Islam.
Ahmed was formerly the leader of the Islamic Courts Union (ICU), an Islamist array of sharia judges and militants that vied for power after losing control of much of southern Somalia at the end of 2006. A contingent of the ICU reached a power-sharing agreement with the TFG in January 2009 that resulted in the election of Ahmed as president.
The ICU still exists under the auspices of Ahmed's TFG, and alleged members of the ICU last month set fire to the house of an underground church member they suspected of having left Islam. The gutted house is located on the outskirts of Mogadishu.
Having learned that there was a Bible and Christian pamphlets inside, the angry militants stormed the house in Hamarwien district of Mogadishu on Feb. 17 at 1:15 p.m. as a warning to those who dare possess any Christian literature, sources said.
"Since there is no law and order in this country, there is no one we can turn to for protection," said the owner of the house, who requested anonymity and has relocated to another city. "But we know that we're covered with the blood of Jesus Christ."
The assailants looted the home before setting it afire. Area residents tried to extinguish the blaze, which left the house uninhabitable.
"I saw smoke coming out of the house, then I ran outside and I saw two men coming out of the house with a bucket of gasoline," said a neighbor who sought anonymity. "One of the men was shouting, 'Allah Akbar! Allah Akbar [God is Greater],' then they entered a waiting car and drove off."
An eyewitness told Compass that after the looting, the ICU extremists belonging to the TFG locked the doors before setting it on fire. At the time of the attack, there was one New King James Version of the Bible, along with some copies of Christian pamphlets that had been printed off of the Internet, according to sources.
They said they did not know who leaked information about the existence of Christian literature in the house.
"There were Christian books in the house at the time of the looting and arson attack," said one church leader.
Islamic militants have displayed an unusual brutality in hunting down suspected converts to Christianity, with leaders of the underground church movement being executed as a means of discouraging others from joining the growing church.
**********
Copyright 2010 Compass Direct News