16 February 2010
Wife of airline liquid bomb plotter 'prayed he would achieve highest level of martyrdom'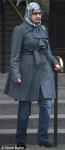 The wife of the extremist who led the plot to kill hundreds of jet passengers prayed he would achieve the highest level of Islamic martyrdom, a court heard today.
Cossor Ali, 28, wrote in her diary how she was desperate for Abdullah Ahmed Ali to kill himself for his cause, it is alleged.
She even wrote of her hopes to be pregnant with a son by the time her husband was dead, jurors heard.
'I am growing more and more attached to the cause for which you are striving for, and the reason for which we are apart,' she wrote.
'I hope and pray Allah grants your wish and gives you the highest level of Shahada.'
Ahmed Ali, also 28, and two other men were convicted of the murder plot in September last year following a trial, Inner London Crown Court heard.
British-born Ali was told he would serve a minimum of 40 years for his role in 'the most grave and wicked conspiracy ever proven within this jurisdiction'.
The al-Qaida-inspired terror cell, jailed for conspiracy to murder on a mass scale, planned to detonate home-made liquid bombs on flights bound for major North American cities.
Accomplices Assad Sarwar and Tanvir Hussain were also given life sentences. Sarwar was told he would serve a minimum of 36 years. Hussain will serve a minimum of 32 years.
Today, Richard Whittam QC, prosecuting, said Cossor Ali did not know the specific details of her husband's plan to murder innocent travellers over the Atlantic in August 2006.
But he said she must have known something of an atrocity he was planning.
The couple, who married in July 2003, lived together at a one-bedroom flat in Walthamstow, east London, where police discovered her diary in a shopping bag and 'The Last Will of Ahmed Ali' in a shoebox.
'She knew that her husband intended to become a martyr, which in the context of her relationship with him, her knowledge of his beliefs and the beliefs that he had shared with her, meant that he intended to commit an act of terrorism that involved his own death,' Mr Whittam said.
Married: Cossor Ali denies knowing the details of what her husband Abdullah Ahmed Ali, who is serving a minimum sentence of 40 years, planned to do
'It is the prosecution case that she knew her husband intended to commit an act of terrorism that involved his own death, some time after he had written his 'Last Will and Testament' dated 7 March 2004.
'It will be for you to determine whether she had information she knew or believed might be of material assistance in preventing the commission by her husband of an act of terrorism and whether she failed to disclose that information as soon as reasonably practical.
'It is not alleged that she was a party to that intended act of terrorism, nor is it alleged that she knew the details of the intended act of terrorism.
'It is alleged that she did know that he intended to commit an act of terrorism in which he intended to take his own life.
'Such an act, whatever she thought it was going to be, was bound to involve the loss of life over and above that of her husband.'
Cossor burst into tears when she was arrested the day after her husband was caught on August 10, 2006, on suspicion of preparing acts of terrorism.
She now faces the lesser charge of failing to disclose information which may have helped prevent an act of terrorism.
Extremist literature was found in a cot belonging to her baby boy, now aged four during a police search of their home.
Her diary, written in early 2005, was found in a Next bag between a cupboard and a wardrobe together with notes she had sent to her husband.
One note dated January 1 read: 'I am on the plane back to Karachi as I write this. I miss YOU even MORE since we spent nine days together.
Evidence: Bomb making equipment packed into jam jars was found at the Alis's Walthamstow flat
'I thought it would help me but it has made me worse.
'I keep thinking about the time we spent and the things we have done together and I keep seeing your face.'
Another describes a fitness regime she hoped would improve her appearance for him.
She added: '...when we are together, I want you to do fighting training with me.'
Referring to an Islamic book she read, she said: 'It is such a beautiful, moving and inspiring story.
'After reading it, I am even happier with what you are doing. It makes me more eager to join you on your quest.'
A further note reads: 'I am really looking forward to you coming home now.
'I have been thinking about all the housework I have to do in the flat. I will clean everything properly and make it smell nice.
'I'm really looking forward to snuggling up to you in bed, while we listen to a talk or either one of us reads Qur'an or a book to each other.
'I'm crying as I write this. I desperately miss my soulmate, husband, lover, comforter and companion...'
A further entry willed Ali to choose her 'over the hoors' - women in paradise - and wait for her to join him.
She added: 'I hope that when you attain Shuhada [martyrdom], I will have at least one small child and be pregnant with another or at least be pregnant with a healthy baby at the least inshallah.'
Jurors heard Cossor Ali also kept a to-do list for her husband's return in a shoebox on the floor of a cupboard was also found her to do list for his return, including 'straighten hair on 08/02/04'.
Abdullah Ahmed Ali's co-conspirators: Tanvir Hussain (left) and Assad Ali Sarwar (right) were jailed for a minimum of 32 years and 36 years respectively last year
Also in the box was Ahmed's will, which stated: 'Before I detail my last will and requests I would like to say a few words to those who may read it I begin with a reminder to all including myself every soul shall taste death.
'The time and place for every soul is written and with every passing day it draws nearer.
'So let us not fear or worry about it.
'The only thing for us to worry about and work towards is pleasing Allah by obeying all his commandments and abstaining from all his prohibitions.
'This will ensure that our life after death will be successful and that we will die as true Muslims with Imaan.'
Cossor Ali was silent during her police interview, but made a written statement claiming she did not knowingly participate in the conspiracy to use liquid explosives on airline flights or knowingly encourage anyone to commit a terrorist act and that she had no knowledge of such a plot.
In another statement she denied ever going to a nearby property which had been used to record martyrdom films and to store everyday household and electrical goods intended for making into home-made bombs.
She told officers she may have 'innocently touched' a number of items found there while they were at her home.
They included a powdered drink called Tang of the type Ali planned to use to colour the dangerous liquid and made it look like a fizzy drink, and a delivery of mini-lightbulbs for attaching to improvised explosives.
She claimed when she questioned Ali he told her the bulbs were for the car and that he brought the Tang back from Pakistan because he and his friends were planning to develop a drink to sell.
The prosecutor said: 'She was confident enough to open the package. She says she was satisfied with the explanation they were for the car.'
Ali, of Walthamstow, east London, denies 'having information which you knew or believed might be of material assistance in preventing the commission by another person of an act of terrorism, and did not disclose the information as soon as reasonably practicable' between March 2004 and August 11 2006.
The trial continues.
posted by / http://www.dailymail.co.uk