16 February 2010
Obama's Islamic Envoy Quoted Defending Man Charged With Aiding Terrorists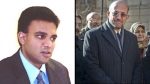 President Obama's new envoy to the Organization of Islamic Conference, Rashad Hussain, is at the center of a controversy over remarks attributed to him defending a man who later pleaded guilty to conspiring to aid a terrorist group
President Obama's new envoy to the Organization of Islamic Conference, Rashad Hussain, is at the center of a controversy over remarks attributed to him defending a man who later pleaded guilty to conspiring to aid a terrorist group.
The Washington Report on Middle East Affairs quoted Hussain in 2004 as calling Sami al-Arian the victim of "politically motivated persecutions" after al-Arian, a university professor, was charged in 2003 with heading U.S. operations of the Palestinian Islamic Jihad.
The United States has designated the Palestinian Islamic Jihad as a foreign terrorist group as far back as 1997. At the time of al-Arian's arrest, then Attorney General John Ashcroft called it "one of the most violent terrorist organizations in the world."
Al-Arian pleaded guilty in 2006 to conspiracy to aid Palestinian Islamic Jihad and was sentenced to more than four years in prison.
The White House says the controversial remarks defending al-Arian two years earlier were made by his daughter -- not by Hussain. Both were part of a panel discussion at a Muslim Students Association conference, but the reporter covering the event told Fox News she stands by the quotes she attributed to Hussain, who was a Yale Law student and an editor of the Yale Law Journal.
The Web version of the 2004 article in the Washington Report on Middle East Affairs was later edited to delete all of Hussain's comments. Editor Delinda Hanley told Fox News she believes the change was made in February 2009, though she does not recall who requested the edit.
Hanley remembered telling the group's webmaster: "Let's just take out the quotes since they have been attributed to the wrong speaker."
Hanley suggested to another media outlet that the comments attributed to Hussain were actually made by Sami al-Arian's daughter, Laila, who also attended the event. But the author of the piece, Shereen Kandil, told Fox News that she would never confuse the two people.
"If I quoted someone, it's because they said it," she said, adding that she no longer works for the magazine and was surprised to learn of the changes.
The White House also attributes the quotes to Laila al-Arian.
A White House official who talked with Hussain on Tuesday said he acknowledged attending the event to discuss civil rights in a post-9/11 world but has "no recollection" when it comes to the comments attributed to him.
Fox News' Shannon Bream contributed to this report.