30 January 2010
Complaints to the Pope of the "agents of Islamization" in the governorates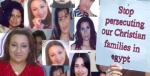 A source inside the church that complaints reached the papal demands the intervention of the Church, because of the groups he
described as "Islamic" in several counties specializing in the search for those who want to enter Islam, who have special problems, pointing out that all up to
the church is the only complaints of the dioceses
, one of which was from Alexandria says that the price of entry for young Coptic Islam

ten thousand

and seven thousand pounds for girls.
The source added that these groups exploit the poverty of some

Copts

and their need for money Vigrunhm money to leave and enter the Christian religion to another religion, and take advantage of

divorced women

and girls experiencing problems in these processes.


For his part, Archbishop Salib Matta Sawiris Jioushi priest of the Church of

St. George

and a member of the

Milli

Mejlis Business Brokers Islamization is a new tone to promote its ideas are not true.


He pointed out that reasons for leaving Christianity are 3 things 90% of sexual relations between two different-religion and 8% for financial reasons is going through Changer religion, and 2% caused by the impact of ideas which is the lowest that change the religion.


He pointed out that the promotion of these ideas have probably given rise to a major crisis, and congestion if true the existence of such groups