10 April 2009
Explosion rocks Philippine town on Good Friday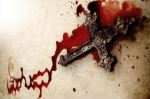 An improvised bomb exploded in a small Christian town of the Muslim Mindanao region in south Philippines, a military official reported Friday.
Lt. Col. Jonathan Ponce, spokesman of the Army's 6th Infantry Division, said the bomb, made of a 60 mm mortar, went off around 5a.m local time (0900 GMT) at Kalamansig town proper of Sultan Kudarat province.

Ponce said a mobile phone was used to trigger the blast.

No casualties have been reported so far.

Authorities said the explosion might be the work of local extortion gangs but Christian communities are a frequent target of local Muslim rebels who have been fighting for a separate Muslim state in the south for decades.

posted by // http://english.people.com.