07 March 2009
"Muslim MTV" aims to provide an Islamic take on music video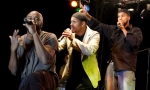 Women will even be appearing on this station, "as long as it is according to Islamic standards." "Rapping for Allah - the new channel for the Muslim MTV generation," by Jack Shenker for the Guardian, March 6:
The thumping beat, baggy football tops and slick production values bear the trademarks of a regular hip-hop music video. But instead of scantily clad women dancing around a pool, there are rappers promoting prayer, healing and Allah. For this is 4Shbab ("for youth"), Egypt's new entry into the lucrative music television market and a channel dedicated to bringing Muslim values to the MTV generation.

On a boat moored on the Nile, 4Shbab's founder, Ahmed Abu Haiba, explained why the current music video networks were a threat to Muslim identity. "These channels are strange to our culture," he said. "There are young Muslim men today who'd like to have girlfriends, be part of a dating culture, and yet when they want to get married they look for a devout, religious wife. This is cultural schizophrenia … and it's these channels which are giving our young generation such misunderstandings and smashing their identities."

To reverse this corruption of a generation through "lewd imagery" and "contradictory values", he travelled around the Gulf raising funds for a channel that would appeal to young Muslims. Now '4Shbab' has arrived on TV sets throughout the Middle East and Europe. But the channel — which declares it will "listen to the tune of Islam" — is already being criticised. On the one hand, Abu Haiba has been accused of demeaning Islam by those who believe that all music is haram (forbidden). On the other hand, his station has taken flak from women, who rarely feature in its music videos or game shows such as Who Wants to Be an Islamic Pop Star?. The network's content is vetted by a committee of five men who decide whether videos conform to 4Shbab's Muslim philosophy.

"We don't have a problem showing women, as long as it is according to Islamic standards," insisted Abu Haiba, who previously worked with Amr Khaled, a blockbuster preacher who has revolutionised Islamic sermonising on television. "But we must be careful in dealing with the issue of women on TV, and it's not wise to smash all the walls straight away."...
Is that a hint that Abu Haiba's ultimate intention is to eventually "smash all the walls"? If so, beware, Abu Haiba, of those whose mindset has been sheltered (or imprisoned) behind those walls for nearly 1400 years: they don't like their "walls" tampered with