13 February 2009
Most wanted: Australian police issue image of arsonist and reveal two deadly fires were lit deliberately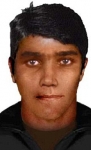 Police have released this image of a man wanted for questioning in relation to arson in Victoria.
But he is not the chief fire-starter they are looking for in the 'bushfire zone' further to the north of the area where this man is alleged to have started a blaze.
This suspect, said police, is wanted for questioning in relation to an eight-acre fire that flared up in bushland earlier today some 10 miles from the centre of Melbourne.
No one appears to have died in that fire - but the blaze was lit days after 181 people were killed in fires that Prime Minister Kevin Rudd described as 'mass murder', leaving many to wonder what compulsion could have driven the suspected arsonist to put yet more lives in danger.
The fire disrupted traffic and sent plumes of smoke across nearby suburbs.
Police said the man they were seeking has a dark complexion and is in his early to mid-20s, wearing black pants a polo shirt and yellow-rimmed glasses.
He was also carrying a black backpack.
Detectives have yet to release a photofit of a man they are looking for in the Gippsland area, some 70 miles south east of Melbourne.