07 February 2009
Gang of youths attack pastor and his church - again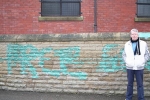 A gang of "20 youths" have launched another vicious attack on the Zion Baptist church, assaulting the pastor and hurling racist abuse.
Pastor Dennis Rigg and his brother Mervyn have been in and out of the church setting up for their dad's funeral which is set for Saturday.

Yobs attacked the pastor and pelted a series of hard snowballs at their heads, as well as shouting hateful slurs relating to their Christian religion and its apparent [erroneous] relation to attacks on Gaza.

Rochdale Online previously reported how the church, on Milkstone Road, had been covered in racist slurs with spray paint, causing anger and upset in the local community.

Speaking to Rochdale Online, Pastor Rigg said: "I went out to take some rubbish out when I felt a whack on the back of the head.

"I looked up to find about 20 youths pelting really hard snowballs. They were screaming and shouting all sorts of abuse, most of it about me being a Zionist".

He added: "We have been here all week preparing for my dad's funeral, which is this weekend. We don't deserve this".