03 February 2009
Saudi Arabian Airlines passenger sentenced to 30 lashes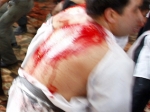 A PASSENGER has been sentenced to 30 lashes for smoking on a domestic Saudi Arabian Airlines (SAA) flight.
The Sudanese man will be flogged by police after refusing repeated requests from cabin crew to stub out his cigarette, despite being told smoking is banned on Saudi's national carrier.
The passenger, on a flight to the Red Sea port of Jeddah from Qurayyat, was arrested when the aircraft landed in Jeddah and promptly handed over to police, reports the Saudi Gazzette.
A judge handed down the sentence despite the man proving he was attending a clinic to help kick the habit.
Wearing just a thin shirt, the unnamed passenger will be flogged by a policeman wielding a slim reed who must hold a book under his arm to prevent him using too much force.
The strokes are not meant to leave permanent damage but to inflict painful welts that bleed and bruise.
Smoking was banned on domestic flights of Saudi's national carrier SAA in 1987 and on overseas flights in 1999.