23 January 2009
Edmonton man accused of murder in Ottawa appears in court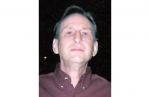 Sean Murphy was fan of Frank Zappa and the Montreal Canadiens and was buried with his Habs cap. The 51-year-old Ottawa man died last August from injuries he suffered in a mysterious beating. Five months later, an Edmonton man has been charged with second-degree murder.
OTTAWA — A 20-year-old Edmonton man accused of second-degree murder in the death of Ottawa resident Sean Murphy appeared briefly in an Ottawa courtroom Friday.
Wearing a white long-sleeved shirt, dark blue jeans and a bright yellow shirt draped around his neck, a shackled Mohamed Jama Yusuf was ordered by a justice of the peace not to communicate with 19 potential witnesses in the case, then was remanded in custody.
Mr. Yusuf was arrested on a Canada-wide warrant in Edmonton on Tuesday in connection with Mr. Murphy's death.
Originally, police believed the death of the 51-year-old Mr. Murphy was accidental after he was found collapsed beside his bicycle near the intersection of Merivale Road and Shillington Avenue shortly before midnight on Aug. 26. A few weeks later, they deemed the death 'suspicious' after rumours of a beating began to circulate.
Court was told Mr. Yusuf, who sported a thin goatee and short black hair, is being represented by Edmonton lawyer Peter Northcott. He was represented by duty counsel during his brief appearance.
After being told there would be a list of people he could not contact, Mr. Yusuf asked his lawyer if he was allowed to call his parents.
No friends or family members of either Mr. Yusuf or Mr. Murphy were present in the courtroom.
At the time of his death, Mr. Murphy's family believed he had been assaulted, noting that he had suffered severe injuries to all sides of his head, along with bruises to his ribs and shoulder.
"It looks to us like it was an unprovoked attack," his brother, Michael Murphy, told the Citizen last September.
Family members were told by Sean Murphy's best friend that witnesses saw what they believed to be three people kicking a dead animal that night, but the witnesses would not report it officially because of outstanding issues with police.
The family believes he may have been out of cigarettes and had gone to the area, near his apartment, to get a cigarette from people leaving a nearby bar.
In November, Ottawa police officially ruled the death a homicide.
Mr. Yusuf is scheduled to appear in court next on Jan. 30 by video remand.
aseymour@thecitizen.canwest.com