13 October 2008
Mosul, another "targeted murder" against the Christian community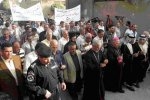 A disabled 25-year-old shopkeeper was killed yesterday, not far from the shop that he owned. The objective of the fundamentalists is to shut down the activities of Christians and force them to flee. A source for AsiaNews denounces the "complicity" of the police, and the "curtain of silence" that has fallen across the slaughter.
Mosul (AsiaNews) - There is no end to the slaughter of Christians in Mosul: yesterday, Monday, October 6, Ziad Kamal, a disabled 25-year-old shopkeeper in the city, was shot to death. The young man's store was in the neighborhood of Karama, but some time ago he had bought a home in Bartella, a Christian majority town not far from Mosul, for reasons of safety.
Ziad Kamal was taken by an armed group from inside his shop and brought to a spot not far away, where he was shot to death. Yesterday's murder, against a member of the Christian community, is only the latest in a long series of killings that have taken place in Mosul. On Saturday, October 4, two men were barbarously killed in two different areas of the city: Hazim Thomaso Youssif, 40, was killed in front of the clothing store he owned, while 15-year-old Ivan Nuwya was shot to death in the neighborhood of Tahrir, outside of his home in front of the local mosque of Alzhara.
The fundamentalists therefore seem to have taken aim at a precise segment of the Christian community: two of the three latest murders have struck shopkeepers in Mosul. It is a clear sign that the terrorists are seeking to uproot the Christian community, wipe out its economic activity, and force the population to leave.
A source for AsiaNews says that "the situation is becoming increasingly difficult for Christians," while the rest of the world seems to have "forgotten our sufferings," allowing a "curtain of silence" to fall over them. The source specifically accuses "the Iraqi government," which "has done nothing" so far to "stop the slaughter," and accuses the security forces, the "accomplices" of criminal groups that kill Christians.
Yesterday in the capital, a demonstration was held (in the photo), organized by Shlemon Warduni, archbishop of the Chaldean Catholics in Baghdad, to call for the reintroduction of article 50 of the electoral law, which guarantees a proportion of seats to ethnic and religious minorities, ahead of the upcoming elections for the provincial councils. "We do not understand," says Archbishop Warduni, "why the article was not included in the law, but we intend to defend our rights, and we call upon the authorities to ensure that the Christian community is not discriminated against." The prelate concludes by launching an appeal that "article 50 be restored," and the "religious minorities" be protected. (DS)