13 October 2008
Christian mother loses custody of her sons to a Muslim father by an Egyptian Judge. Shariah 101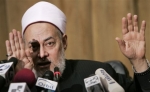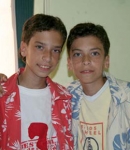 EGYPT: COURT GIVES CHRISTIAN BOYS TO MUSLIM FATHER
www.cache.daylife.com
Despite a fatwa from the Grand Mufti, Alexandria judge denies custody for mother.
ISTANBUL, October 2 (Compass Direct News) – Following the Appeal Court of Alexandria on Sept. 24 granting custody of 13-year-old Christian twins to their Muslim father, their mother lives with the fear that police will take away her children at any moment.
Kamilia Gaballah has fought with her ex-husband Medhat Ramses Labib over alimony support and custody of sons Andrew and Mario in 40 different cases since he left her and converted to Islam so that he could remarry in 1999.
The court ruled in favor of Labib in spite of Egyptian law's Article 20, which grants custody of children to their mothers until the age of 15, and a fatwa (religious ruling) from Egypt's most respected Islamic scholar, Grand Mufti Ali Gomaa, giving her custody.
"This decision was dangerous because it was not taken in accordance with Egyptian law but according to sharia [Islamic] law," said Naguib Gobraiel, Gaballah's lawyer and president of the Egyptian Union of Human Rights Organizations.
He explained that Egypt's civic code calls for children under the age of 15 to stay with their mother regardless of their religion. Gobraiel said that sharia tends to favor the Muslim parent in such cases.
continue reading at http://compassdirect.org/en/display.php?page=news&lang=en&length=long&idelement=5609