29 November 2007
Jihadists crucify one, behead two in Thailand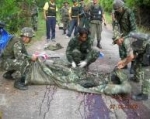 (news.yahoo.com) A Muslim military informant was shot and crucified, while two Buddhist men were beheaded Wednesday by suspected Islamic separatists in Thailand's
The Muslim man, a 58-year-old who belonged to a government-backed militia, was shot and then stabbed so badly that he was nearly decapitated, police Lieutenant Khanchitthol Kreunor told AFP.
Suspected rebels then drove six-inch nails through his head, arms and legs to attach him to two pieces of wood, which were laid out like a cross in the middle of a road in Rueso district of Narathiwat province, near the southern border with Malaysia, he said.
Khanchitthol said police found a note written in Thai and left near the cross, reading: "This is what the infidels deserve. The soldier dogs must meet this end."
"The victim was attacked and killed in such a grisly way because they knew he was a military informant. This is to terrify the people," Khanchitthol said.
About two hours later, two Buddhist fishmongers aged 20 and 61 were shot and then beheaded in another district of Narathiwat, police said.
The killings came after a month of spiralling violence in the region, which has seen more than 2,700 killed since separatist unrest erupted four years ago.
Thailand's southernmost provinces were an ethnic Malay sultanate until the Buddhist kingdom annexed it a century ago, provoking decades of tension.
Monitoring group Intellectual Deep South Watch said last week that November has been one of the most violent months this year.
Thailand's new army chief, General Anupong Paojinda, had announced last month that he was bolstering the 30,000 government forces in the region to try to clamp down on the violence.
The military has also requested massive spending increases to buy new weaponry, including a dozen fighter jets already ordered from Sweden, saying it needs the hardware to battle the insurgency.
But near-daily shootings, bombings and ambushes continue to hit southern Thailand despite the military crackdown, arrests and a raft of peace initiatives by the army-backed government.
Attacks have become increasingly brutal, with corpses sometimes mutilated or savagely stabbed. Corpses are often left in streets or other public areas where passersby find them.
The government also relies heavily on paramilitary forces like the one that the latest Muslim victim belonged to.
Many villages have lost any faith that the government can protect them and have begun to organise their own sectarian vigilante forces.
Rights groups and analysts have voiced alarm at the trend, saying such forces only increase tensions among communities and hamper efforts to make security forces more accountable.
Despite the rampant violence, few people have been prosecuted over the unrest.
In June, the government began raiding villages and making mass arrests, but courts last month ordered authorities to free 384 young men who had been held without charge in what the army said was a job training programme.
The army said it feared the men were susceptible to recruitment by separatists, but finally obeyed the court orders to free them on November 18.
POSTED BY /http://www.homestead.com