12 November 2007
Egypt ID cards sentence minorities to non-life: report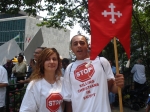 CAIRO (AFP) — Christian converts and members of minority religions suffer daily discrimination in Egypt, which restricts their access to work, education, travel and healthcare, a rights report said on Monday.
State reluctance to allow citizens to put their religion of choice on national identity cards also forces many to obtain forged documents that can result in criminal prosecution, said the joint report by New York-based Human Rights Watch (HRW) and the Egyptian Initiative for Personal Rights (EIPR).
Every Egyptian over 16 years old must have an ID card which mentions religious belief, but the interior ministry systematically prevents converts from Islam and members of the minority Bahai faith from registering their belief or just putting nothing, it said.
Many of those interviewed for the report told how interior ministry officials tried to intimidate or bribe them into identifying themselves as Muslims because of a personal interpretation of Islamic sharia law that does not exist in Egyptian law.
"Interior ministry officials apparently believe they have the right to choose someone's religion when they don't like the religion that person chooses," said Joe Stork, deputy director of HRW's Middle East and North Africa division.
One case documented in the report is that of Salwa Iskandar Hanna, a Bahai who died in October 2005.
Her family was able to bury her, but to this day has not been granted a death certificate because the state requires her to posthumously convert to Islam -- or one of the only two other officially recognised religions.
"We tried, but were told we had to choose Muslim, Christian or Jew," said Salwa's sister Labib.
As in death, an ID card is required for the most basic needs in Egypt -- to open a bank account, get a driver's licence, obtain a pension cheque, enrol at school, get a job, and even for childhood immunisations.
While there are around 2,000 Bahais in Egypt, Muslims who convert to Christianity account for many more and their treatment is often harsher as they are considered to be apostates, which some Muslims see as punishable by death.
As a result, many seek forged documents that turn them into criminals.
"State security tried to persuade us both to be Muslims," said one convert couple. "We were exhausted, more than 24 hours with no food. When they failed to convince us to become Muslims, they referred us to criminal investigation.
"From five in the morning until five at night, the state security grilled us. They said that they would bring forgery charges against both of us."
Consigned to lead a life of severely diminished existence, others simply allow a religion that is not their own to be put on their ID cards.
"The interior ministry's policy essentially says: 'If you lie, we'll give you the documents you need but, if you tell the truth about your religion, we'll make your life miserable by withholding them'," Stork said.
"It is punishing people solely on the basis of their religious beliefs."
Egypt's top religious advisor, Grand Mufti Ali Gomaa, caused controversy in July after he said that while it would be a "grave sin" for Muslims to convert to another religion, worldly punishment should only be meted out if their actions endangered society.
The report calls for Egypt either to abandon the description of religion on ID cards or to allow people to choose exactly what they want to have written -- on papers and in centralised archives.
"Eliminating the religion line in IDs would send a positive signal of the state's neutrality regarding the religious affiliation, if any, of citizens," the EIPR's Hossam Baghat said.
Hundreds of Bahais and converts have tried to take their cases to court, but few positive rulings have been handed down.
Egypt's Supreme Administrative Court is set to decide on November 17 on the right of Christian converts to Islam to convert back to Christianity, in a ruling that rights groups hope will set a positive precedent.
However, the same court in December ruled that Bahais did not have the right to state their religion on identity papers because "those who belong to this religion are apostates of Islam, because the faith's principles contradict the Islamic religion and all other religions."
The Bahai faith is an independent, monotheistic religion founded in the 19th century in Shiite Muslim Persia.
posted by /http://afp.google.com